When attempting to assemble an efficient home gym, it is imperative to make sure that you purchase everything you need. Obviously, you'll need a bench and other items, but powerblock dumbbells are often overlooked. This is a major mistake, because dumbbell Set are capable of providing the user with a tremendous number of potentially beneficial workouts.
With this in mind, current manufacturers have been able to provide users with more convenience and freedom, with adjustable dumbbells. PowerBlock happens to be one of the companies, which is leading the way.
PowerBlock Dumbbells Video Review
PowerBlock Dumbbells
At first glance, these powerblock dumbbells look like something you'd see in an elementary school, since they're designed with multiple colors. However, this equipment is more than suitable for the gym. They're available in a wide range of unique sizes and the increments can be adjusted very easily. Although the price is generally a little more expensive than others, PowerBlocks offers durability and convenience that cannot be paralleled, by other manufacturers.
---
PowerBlock Classic 70 Dumbbell Set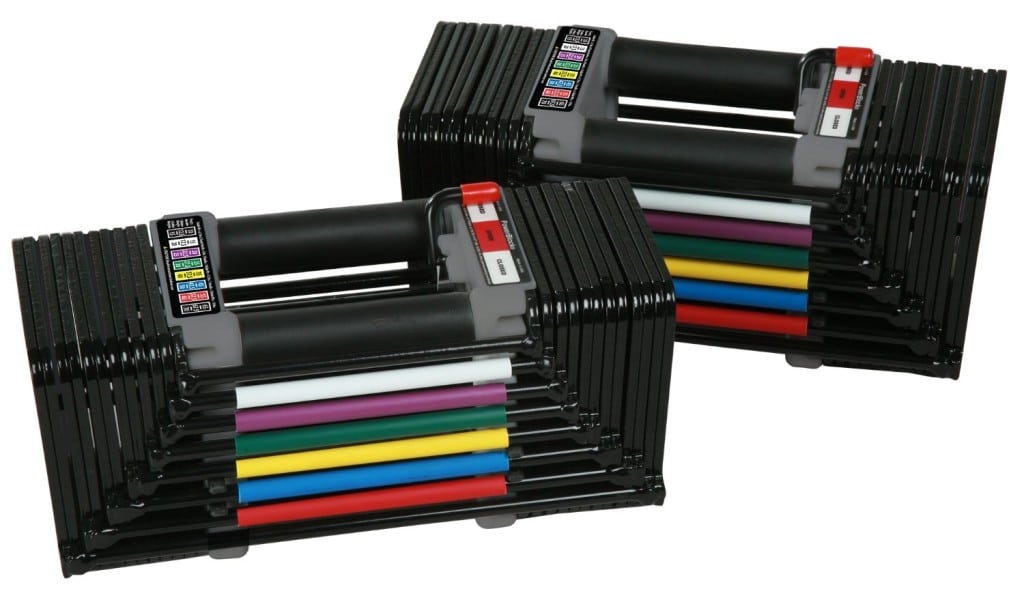 Anyone, who is looking to build their muscles, will be able to do so with this particular set, which is capable of offering 70 pounds of weight. This particular characteristic is generally unavailable with many others. At the same time, there are many other things to like about these weights. For instance, the handles are equipped with sufficient grips, which ensure that you'll never drop the dumbbells on your toes. Although the design is awkward at first, it actually offers a little more flexibility. The square design enables the user to grip the dumbbell with two hands with ease.
Pros
The powerblock dumbbells offer tremendously advantageous weight options, which range from 5 to 70 pounds. This offers something for everyone. With this particular set, it is possible to eliminate the need for 24 individual dumbbells. With a 10-year warranty, you can rest assured knowing that the manufacturer will rectify problems, within 10 years.
Since the weights measure in at 14x6x6, they can be stored very easily to help prevent clutter around the home. Finally, the weight increments offer a great deal of freedom.
Cons
The overall design of the weights is somewhat awkward and takes a little getting used to. Many individuals have noted that the weights are held in place with 2 plastic clips. Suffice to say, this may cause concern, since the plastic isn't capable of providing longevity.
Click Here to Read Full Review of PowerBlock Classic 70 Dumbbell Set
---
PowerBlock Elite 90lb Dumbbell Set Review
First off, let me start this review by saying I left a Pros and Cons chart below for those who don't want to read the full review 🙂
Recently got my Powerblock Elite 90lb adjustable set, and to be quite honest I am pleased! Although the price at first scared me… BUT then I realized the original price is much higher and this is a great bargain, Thanks to Amazon of course!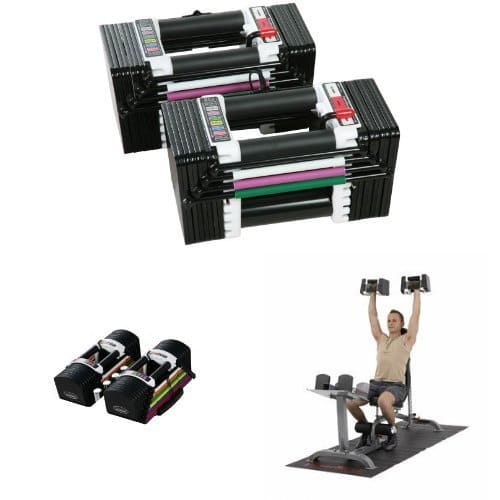 First impressions while unboxing (Or shall I say unpacking because of it's size!) was where should I put this? But It isn't too big once you set it up, especially compared to the competitors. The build quality is great and I like the feel of the handles, I have purchased Adjustable Dumbbell's from other companies before and they always feel "cheap" and take time to adjust to, luckily Powerblock is a quality company.
They take slight things that me and you consider as important, for example, the Powerblock Dumbbells has 2 bars in the middle of the Dumbbells both weighing about 2.5 pounds, each color represents a weight range of 2 kilos, the lightest weight has no bars, the middle weight has 1 bar and the heaviest weight has 2 bars.
Powerblock Dumbbells Video Review
The PowerBlock Dumbbells is super easy to use, and of course like I just mentioned the Weight/Pounds is color coded. The mechanism of this Powerblock adjustable Dumbbells is what will get me to either say "I am not buying this!" or "Shut up and take my money!", and that is why I pointed out the build quality and how it works. The next thing I really take into consideration is the size, in the beginning of this review I mentioned that it isn't too big, and that is a huge plus for more.
The size of the dumbbell is as big as the amount of weight I am using, so the bar itself is not getting in the way or annoying me (A life saver for someone like me who works out 4 days a week), for example, when I set the Dumbbell to 9KG/19.8lbs it is about 9 inches or 23cm, so its much easier to move around with, a "heavier" example is 20kg/44lbs will be about 11.8 inches or 30cm.
Something else I just have to mention is the weight is evenly distributed, might seem stupid but it makes a big difference for me. There is two slight things that I wish PowerBlock changed about this set, first one is about the stand, I am 6'3 and I feel like the stand was made for midgets (no offense to anyone of course!), they should make it adjustable for those who are 6 foot plus!
The second being that the weight is SLIGHTLY, and yes I do mean slightly "Inaccurate", but really all Dumbbells will have a slight inaccuracy of weight, it won't annoy you but I felt the need to go ahead and include that in this review, it is a 0.1-0.3 difference at most. I want to give a big thanks to my brother for recommending this set for me 🙂 And of course thanks to Amazon for being such a life saver and delivering my packages safely and neatly!
PowerBlocks Elite 90 Pound Adjustable Dumbbell Set Video Review
Pros:
Price is great compared to similar sets
Isn't too big and "clunky"
Great build quality
Simple to use
Cons:
The stand is too short for anyone over 6 Foot.
---
PowerBlock SportBlock 2.4 Adjustable 3 to 24-Pounds per Dumbbell Set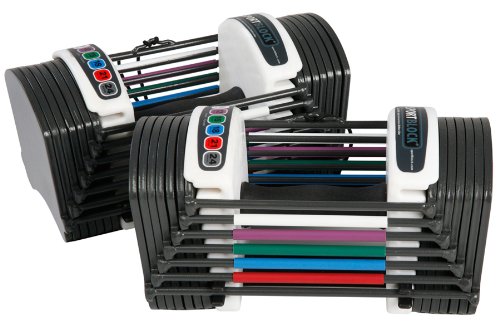 Anyone that is looking for lighter dumbbells will want to take a look at the SportBlock, which offers weights ranging from 3 to 24 pounds. Again, PowerBlock stands behind their product, by offering a limited 10-year warranty. If 24 pounds is sufficient for your particular needs, these dumbbells offer convenience and durability, which isn't necessarily available with other sets. By using the selector pin, you'll be able to quickly and seamlessly adjust the weight to your desired parameters.
Benefits
These dumbbells provide the user with many benefits. They can be used in conjunction with a wide range of different workouts. At the same time, the price is more than affordable. The weight can be adjusted by 3 pounds, which helps you get the exact weight that is desired. The selector pin system allows the user to quickly manage the weight to their needs. The handles are perfectly padded to provide comfort to the consumer.
Negatives
Not everyone will enjoy using the dumbbells, since the design is somewhat awkward. Of course, 24 pounds is likely to be insufficient for hardcore body builders. Still, this shouldn't prevent you from purchasing this particular set.
Click here to Read More on PowerBlock SportBlock Adjustable Dumbbells
---
PowerBlock Elite Dumbbells Review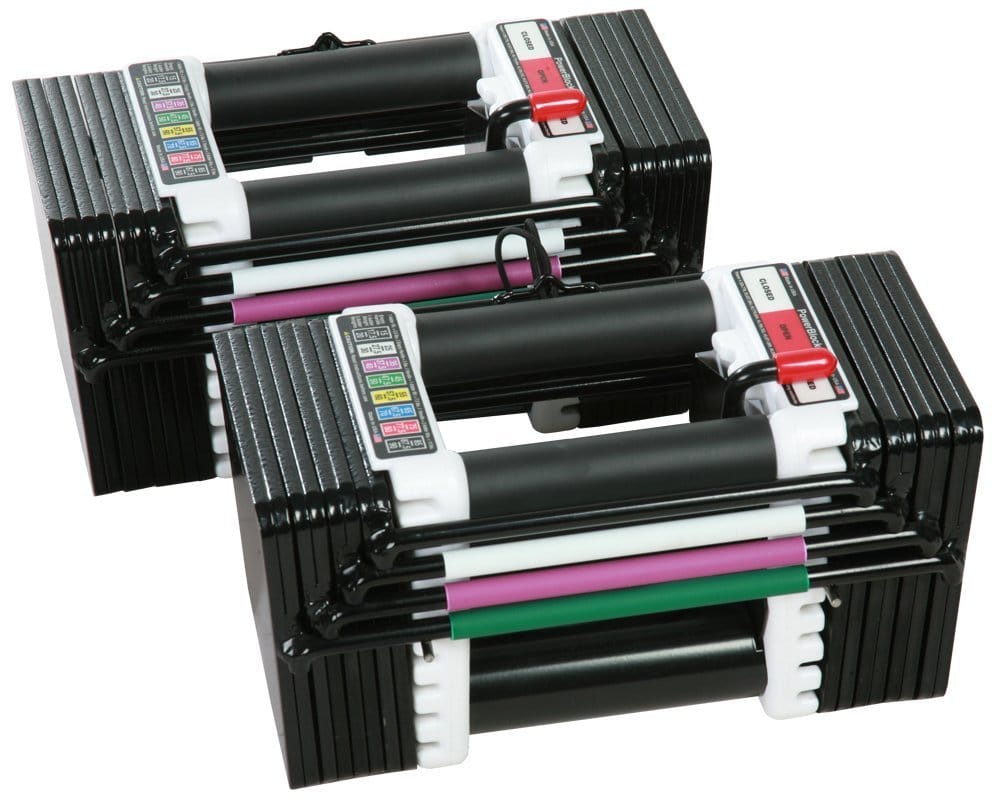 The PowerBlock Elite brand dumbbells are definitely a work of art, as far as exercise equipment goes. These dumbbells will be the only set that you'll ever need in your workout room, since they offer a wide range of weight options, with an add-on package, if you require more poundage. From 5 pounds, up to 130 pounds are available with the expandable kits for an extra fee. Each plate weighs 2.5 pounds, which will allow you to adjust your poundage a lot easier.
Manufacturing Home Place
Most exercise equipment is produced in foreign countries, but not the PowerBlock Elite. These powerblock dumbbells are manufactured in the United States, which stands for superior quality. The 10 year warranty definitely makes the PowerBlock brand stand out above its competitors.
Ergonomic Design
The handle is ergonomically designed to prevent hand and wrist pain, when utilizing the dumbbells. Your hands will grip the handle perfectly, which will offer comfort even during long exercise routines. Ergonomics is important, when exercising and using workout equipment, because this design can prevent injury, wear and tear on specific body parts, and offer extended use for longer periods of time.
Square Design
The square designed plate and exterior construction will prevent the dumbbells from rolling out of place. Where you set them, is exactly where they will remain until you are ready to use them again. This will also aid in protecting your floors from as much damage, since the contoured design is smooth, without rough edges.
You can also utilize the dumbbells to do pushups off of the floor, which is extremely convenient, since you do not require another type of workout equipment to complete these exercises.
Quick Switch Outs
The adjustable feature allows you to switch out the plates in an extremely quick manner. This option functions without dials and knobs that potentially wear out over time. The lever slides back, so that you can easily adjust your weight preference, just like you are in a gym.
Click Here To Read More on PowerBlock Elite Dumbbells
Conclusion
There is no denying that PowerBlock is one of the leading manufacturers of adjustable dumbbells. Many suggest that the PowerBlock Dumbbells are the best on the market. Everyone, who is looking for a durable, affordable and easily adjustable pair of dumbbells, will want to consider one of the sets, which has been explored in-depth above.
Although they'll jiggle a little, these powerblock adjustable dumbbells are superb, when compared to many others. Make sure to select the pair that suits your needs to perfection.