There is no denying that Bowflex is one of the leading names in the fitness field. They're well known for manufacturing and delivering some excellent exercise and fitness related products, especially adjustable dumbbells!
Rest assured that their company stands behind their products, whether you're purchasing Bowflex adjustable dumbbells or one of their innovative workout machines.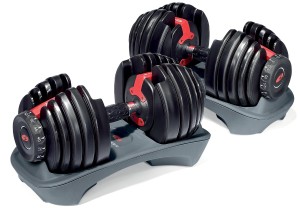 With this in mind, everyone, who is looking to start an exercise regimen, is looking for something different. For those that are looking to build their arms, legs and shoulders, it is imperative to find a suitable pair of dumbbells. Rest assured knowing that Bowflex is capable of delivering in this area. They have a wide range of different adjustable dumbbells and each has its own set of pros and cons.
Below, you will be able to find the 3 best Bowflex dumbbell sets on the market. Be sure to use this information to your advantage and choose wisely.
Introduction to Bowflex SelectTech Adjustable Dumbbells (Video)
Bowflex Adjustable Dumbbells 2018

Although Bowflex's dumbbells are definitely a little more expensive, they provide peace of mind and extreme durability. This is a company, which has been around for a longer period of time than others. The consumer has plenty of options and freedom, since the dumbbells can be purchased in pairs or as single items.
The turn dial system offers a quick and easy adjustment. There are plenty of weights and increments, which ensure that Bowflex adjustable dumbbells are suitable for all experience levels.
Return to Dumbbellshop Homepage
---
Bowflex SelectTech 552 Adjustable Dumbbells (Pair)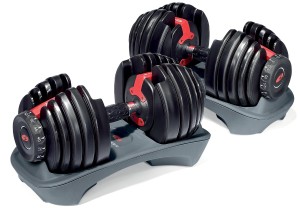 When you first take a glance at these dumbbells, you will recognize the enormous price tag, but this is a moot point, when exploring the features.
The design is stylish and durable. You can rest assured that these dumbbells will last you for many years. On top of that, they come with a two-year warranty, which covers the parts and weight plates.
Anyone, who is serious about working out, but doesn't want to clutter up their apartment, will want to take a look at this set, which will most likely fulfill their needs.
Weights and Increments

Many individuals will find comfort in the dumbbells, since they're capable of providing a maximum weight of 52 pounds.
Rest assured that this amount could easily be adjusted to the minimum of 5 pounds. There are 15 different weight settings, which ensure that you receive the precise workout that you're aiming for.
With the turn of the dial, the weight can effortlessly be adjusted. This must be done, when the dumbbells are positioned in their holder. Once adjusted, the dumbbells can be lifted free and the workout can begin.
Pros
There are tremendous pros to this particular set of dumbbells, which definitely justifies the hefty price tag. For instance, the two-year warranty is nice. Of course, the dumbbells do not disappoint in any particular area.
In this singular set, you can actually use the weights in 15 different ways thanks to the dial system. This helps to eliminate clutter and trip hazards.
A bonus DVD is included and will help you learn all of the unique and effective exercises, which are suitable for these dumbbells. Remember that this is a pair and will allow you to work both arms, at once.
Cons

Although the dumbbells are definitely worth the price, many consumers will feel the price is out of their budget. At the same time, particular pieces of the dumbbells are actually made out of plastic, which can become brittle with age. The 2-year warranty certainly helps to alleviate this worry, but it is definitely something to consider.
---
Bowflex SelectTech 552 Adjustable Dumbbells and Stand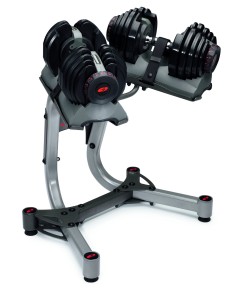 If you're looking for the entire package, this particular set has you covered. Not only will you receive the highly durable Bowflex Adjust Dumbbells, but the stand is also included.
With this combination, you can rest assured that the dumbbells will stay in a secured location and all trip hazards will be properly eliminated. This set, since the price is a little high, is definitely for serious health enthusiasts.
Pros
The dumbbells come with a 2-year warranty, which covers the weights and parts. They can be used in 15 individualized ways to ensure you receive the exact weight you're after.
The stand is durably made and can be used for the SelectTech 552 and the 1090 dumbbells. The dumbbell stand, which is equipped with a towel rack, helps to protect your back, by eliminating bending over to lift up the weights.
Cons
Although the package is nice, durable and convenient, it is not necessarily perfect. The dumbbells alone are actually less spacious.
If you live in a small apartment, you may be better suited to purchase the dumbbells alone. At the same time, the stand is overly expensive and some will find it more affordable to purchase the set and ignore the unnecessary stand.
---
Bowflex SelectTech 1090 Adjustable Dumbbell (Single)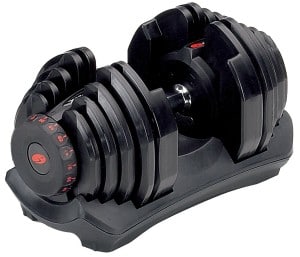 Most individuals that like to work out in the privacy of their home prefer top notch gym equipment just like the gym.
Bowflex brand has a reputation in the fitness world like no other, because they combine high technology and development into all of their products.
The Bowflex 1090 definitely has a lot of offer everyone that wants to tone up their body and get into shape.
Flexibility
If you are searching for a dumbbell set that offers flexibility look no further than this product. You have the option of innumerable weights and poundage.
Whether you are in need of 10 pounds or 90 pounds, you will surely find it, within this one particular set. Many individuals are turned off, by the need to own several sets, but that will never be an issue, with the 1090.
Free DVD
Whether you are a newbie or a veteran athlete, you will find the free workout DVD very useful. This program will show you how to complete the 4-step repetition workout properly, with 30 different exercises to choose from.
Not only will you learn how to properly strengthen and condition your muscles, but you will become accustomed to the drills overtime, which will make your exercise regimen, so much easier.
Molding Design
If you are working out at home, it is very important that you protect your floors and furniture, as much as possible. The contoured molding plate design will aid in this protection. Of course, it is vital to your dumbbell's lifespan to not drop them on the floor, but the plate's construction will allow you to place them on the floor, without concerns of damage. The molding is quite like an aerodynamic design that allows you to perform lifts, with great ease and smoothness.
Convenient Features
The dial selection feature offers you great convenience, when selecting and switching out the weights. You can easily turn the dial to suit your specified needs and pop out the dumbbell, then get down to working out. This feature is designed for repetitive use and longevity.
Conclusion
At the end of the day, you can rest assured that Bowflex offers astounding products that are well worth the money. However, you must question yourself, if the price is right for your particular budget.
Either way, the dumbbells above are high quality, durable and very useful. Be sure to use the information above to guide you in the right direction.
---
Bowflex SelectTech Dumbbell Stand Review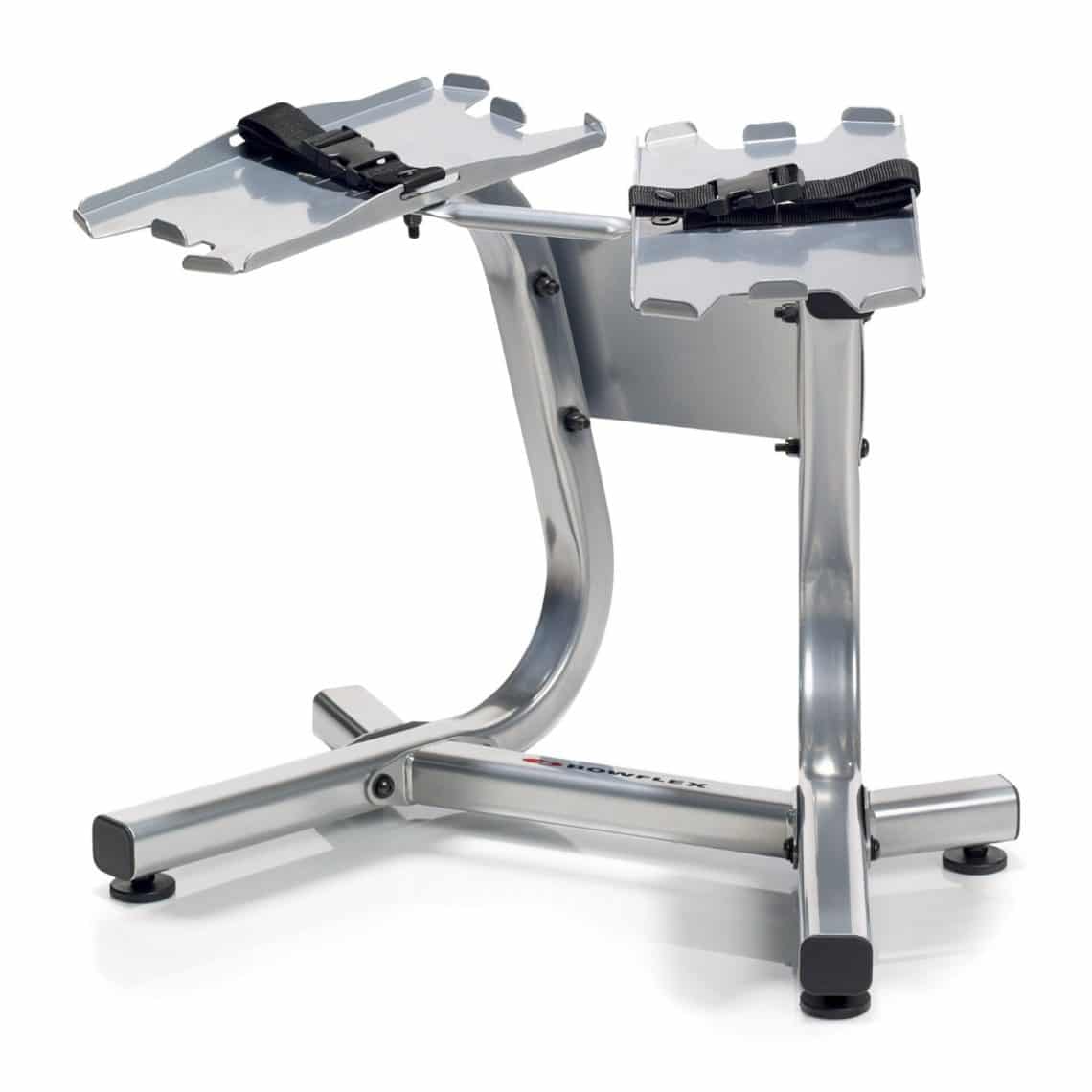 For those who don't want to read the full review, there is a Pros and Cons chart below.
My Bowflex SelectTech Dumbbell stand just came in, purchased it for my Bowflex SelectTech 552 Adjustable Dumbbells, also known to be one of the best bowflex adjustable dumbbells you can buy!
At least in my opinion 🙂 If you have the older 1090 Dumbbells your in luck, this stand is compatible. Package came in with all parts, packed very safely with care and right on time! (One of the reasons I only purchase online goods from Amazon…!)
Lets talk more about the Bowflex Dumbbells stand, this version of the stand does not have wheels, but if you really need them, you can order them by calling Bowflex or buy them for a reasonable price at Home Depot, I find them useless because the stand is only 32 pounds and I have room at my home, but if your work out area is limited the wheels will definitely be useful.
The safety straps had me just a bit confused, but once I got them working I figured that there is indeed a good reason why Bowflex includes them! So make sure you use the safety straps! The price is more than fair for the quality you are getting, and I work out frequently so this stand saves me from constantly bending down to lift weights.
The GENIUS I am, I fully tightened the first 2 small wing legs and it costed me some time, it is best to tighten from the top down… The finish is not a shiny grey, more like a "flat" grey, for those who are wondering.
Overall, I would highly recommend this, if your considering this product, it is a great investment and really makes my workout area feel much more organized, giving me a bit more motivation to not slack off and burn that extra donut I had before work!
Bowflex Dumbbells
Dimensions:
22.5″ tall (29.5″ with weights on rack), 24.25″ wide (28.5 " with weights on) and approx. 19.5″ deep
Pros:
Doesn't take too much space
Lightweight
Impressive build quality
Great price
Design looks super cool, I would think it cost double the amount
Cons:
Took me about 20 minutes to assemble… (Might be a con for some?, keep in mind it is very easy to assemble! Just takes patience!)
For those who need wheels, this stand doesn't come with them (You can order them through Bowflex or purchase them at Home Depot for a reasonable price!)
Height is not adjustable, so if your as tall as Michael Jordan, this stand might be just a tad bit annoying, and I mean if your really TALL! I am 6'3 and I barley have to bend down to reach the dumbbells…
Strap sometimes gets in the way of the dumbbells, this gets annoying during a intense workout where your brain only wants to focus on lifting, not that annoying strap in the way!!
For those having trouble getting the stand to be aligned! Don't TIGHTEN anything until the stand is completely assembled!
Also make sure you have a 17mm socket and T handle allen wrenches to make your life easier, but they DO provide tools!…Thank me later 😉