Fitness enthusiasts need a number of different pieces of equipment, if they truly wish to be able to build all of the muscles in their body. It is certainly true that cardio is a crucial aspect of overall health, but some individuals want bigger biceps and shoulders. With this in mind, these individuals will need to see out appropriate weights.
There are many possibilities here, but XMark offers some of the most durable and reliable dumbbells. Below, you will be able to learn more about XMark adjustable dumbbells and the company's best products.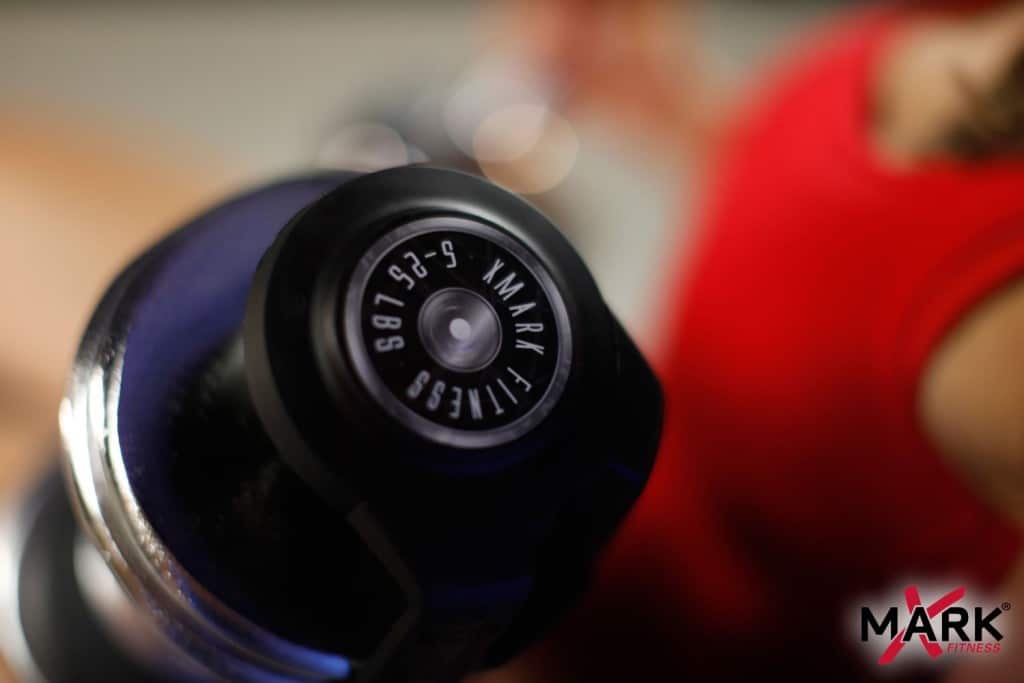 XMark Adjustable Dumbbells

XMark Fitness has obviously put a tremendous amount of thought and effort into the construction of their dumbbells. These are constructed from heavy-duty chrome plated steel, which is capable of ensuring longevity and durability.
With the adjustability system, you can eliminate several individual dumbbells, with this singular system. The slide system allows the user to quickly slide the knob and adjust the weight.
After that, the dumbbells can be lifted from their plate and used for all of the desired workouts. Despite the product's lower overall cost, they're stylish, durable and convenient.
The company's adjustable dumbbells are supplied with a very valuable 1-year warranty, which adds to the value of the overall package.
---
XMark Adjustable Dumbbells 25-Pound Pair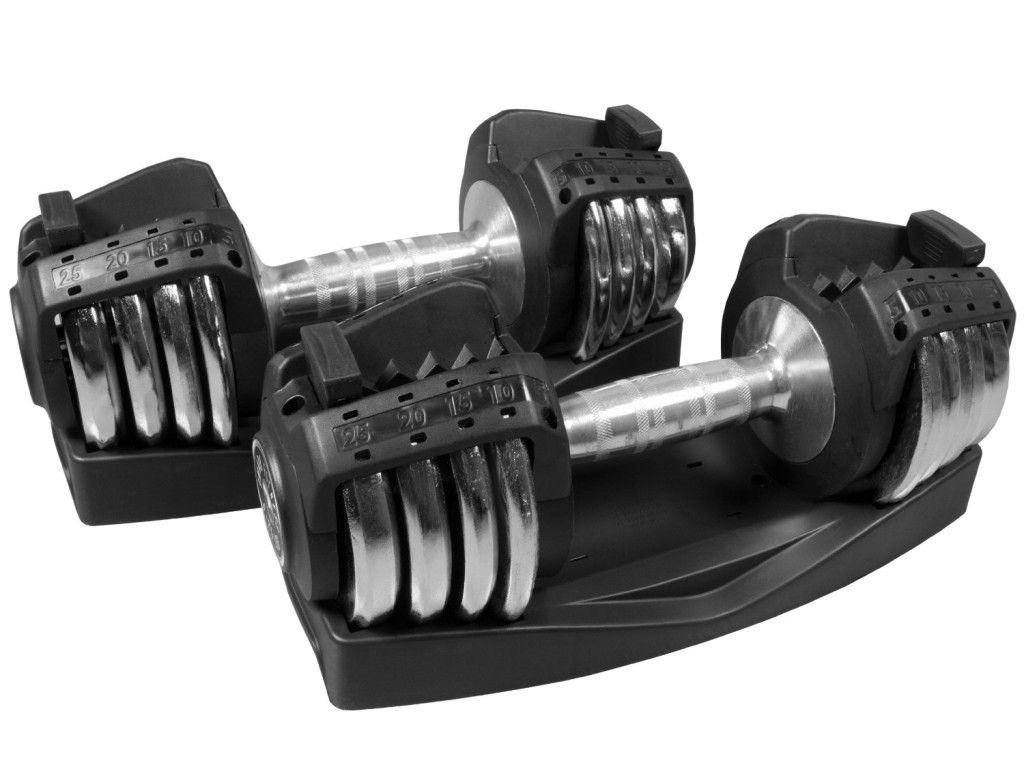 Many individuals will want to be able to build the muscles in their arms and shoulders, at the same time. Truthfully, the only way to make this happen is to workout, with a pair of dumbbells.
XMark has taken this into account, when designing this package. The XMark 25-pound adjustable dumbbells are highly effective, durable and extremely easy to use.
This specific set is capable of eliminating the need for 5 individual dumbbells, which removes unnecessary items and clutter from your home or gym.
Weights and Adjustments

As the name suggests, the dumbbells are capable of providing the user with a maximum weight of 25 pounds. Of course, these are adjustable dumbbells, which actually provide a 5-in-1 system.
With the use of the slider, the user can effortlessly transform the weights from the minimum, 5, all the way to the maximum 25.
Although the weight increments are slightly limited, it is still possible to add or subtract 5 pounds from the weight, at any time. Each individual plate weights approximately 2.5 pounds.
Pros and Cons

Many individuals will be able to get a good workout with 25 pounds. The affordable price is definitely one of the many reasons to consider purchasing these dumbbells.
It is essential to remember that this set is capable of allowing the user to adjust the weights effortlessly, which is convenient.
The included storage tray helps to keep your dumbbells stored in a secure location, while preventing them from rolling around on the floor.
Rest assured knowing that the heavy-duty construction, which is made of chrome plated steel, is capable of providing lengthy longevity.
Some fitness experts will want to exert themselves with heavier weights. Sadly, this isn't a possibility, with this set. The weight increments are somewhat lacking.
Some complain about the slider system becoming ineffective, after a period of use. Still, the price is more than affordable and the XMark adjustable dumbbells should not be ignored.
---
Xmark Fitness XM-3305 Pair of 25 lb Adjustable Dumbbells Review
Every athlete, weightlifter, or any individual that is looking for home exercise equipment that offers innumerable benefits should definitely consider the XMark dumbbell.
This is a single dumbbell that offers a plate weight range of 10-50 pounds, which is perfect for most athletes, male and female alike.

Large Design
This dumbbell is slightly larger than other brands, since it is capable of holding up to 50 pounds. This set still offers portability, as you can transport it to the gym with you, if you prefer.
Once you use this dumbbell, you will definitely be hooked and want to take it everywhere you go, because of its innumerable benefits.

Heavy Duty Construction
Each plate is constructed out of chrome plated steel, which will endure long and strenuous usage. You will never have to worry about the plates chipping, rusting, or corroding over time.
The dumbbell's lifespan is quite extensive, because of its heavy-duty construction, which will withstand normal wear and tear, without issues.

Diverse Uses
Many dumbbells do not offer extended diverse exercise flexibility, like the XMark. This option is required, when working out your entire body.
The design allows you to perform arm, chest, shoulder, and back exercises, without restricting movement and range of motion.
This is genuinely a huge issue with many of the competitor brands, but you will never experience this type of restriction with the XMark.

Handle
The etched chrome plated, steel handle offers a firm and secure grip. You will never have to worry about the dumbbell slipping out of your hand during your exercise routine.
Once the hand becomes moist with perspiration and sweat, a smooth handle bar can become very dangerous. The etching will allow you to maintain control over the dumbbell, which will decrease the risk of injuries.

Extremely Affordable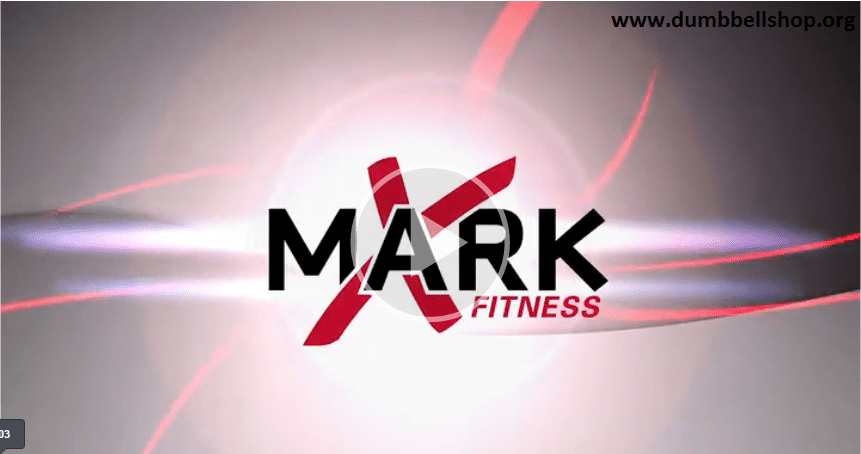 The XMark brand believes in providing their customers with at home workout equipment that is very durable and affordable.
The price tag will make this dumbbell more appealing to most, since you will get everything that is needed to strengthen and condition every muscle in your body, in the package deal.
There is no need to spend $3-4 hundred on a dumbbell set, when you can select one that offers the same or more benefits at a lower cost.
Adjustable Lever

The adjustable lever design allows the user to manipulate the poundage without great difficulty. Even though you will only receive a limited one-year warranty with this product, you should not be fooled, because the adjustable lever is constructed to withstand a long and extensive usage.
Just adjust the lever, while the dumbbell is still placed in the cradle, so that you can get on with your workout, without delay.
---
Conclusion

At the end of the day, the consumer has plenty of options to play around with. XMark understands that each person wants something different and has provided the user with various options.
Still, the company's reputation should encourage everyone to give these dumbbells a second glance! The prices are conveniently affordable and the quality is superb.
Be sure to use the information above to formulate a knowledgeable opinion, before making your purchase.