Ironmaster Dumbbells Reviews – The Best in Weight Lifting Equipment
Throughout the past few years, many individuals have started trying to live a much healthier lifestyle. Although it is certainly true that expensive exercise equipment isn't necessary for this to be probable, it can definitely help.
With the appropriate Ironmaster adjustable dumbbells, an individual will be able to find tremendously effective exercises that can help them build muscles more rapidly.
Suffice to say, there are innumerable different dumbbells on the market, but there is something that stands out, when it comes to Ironmaster.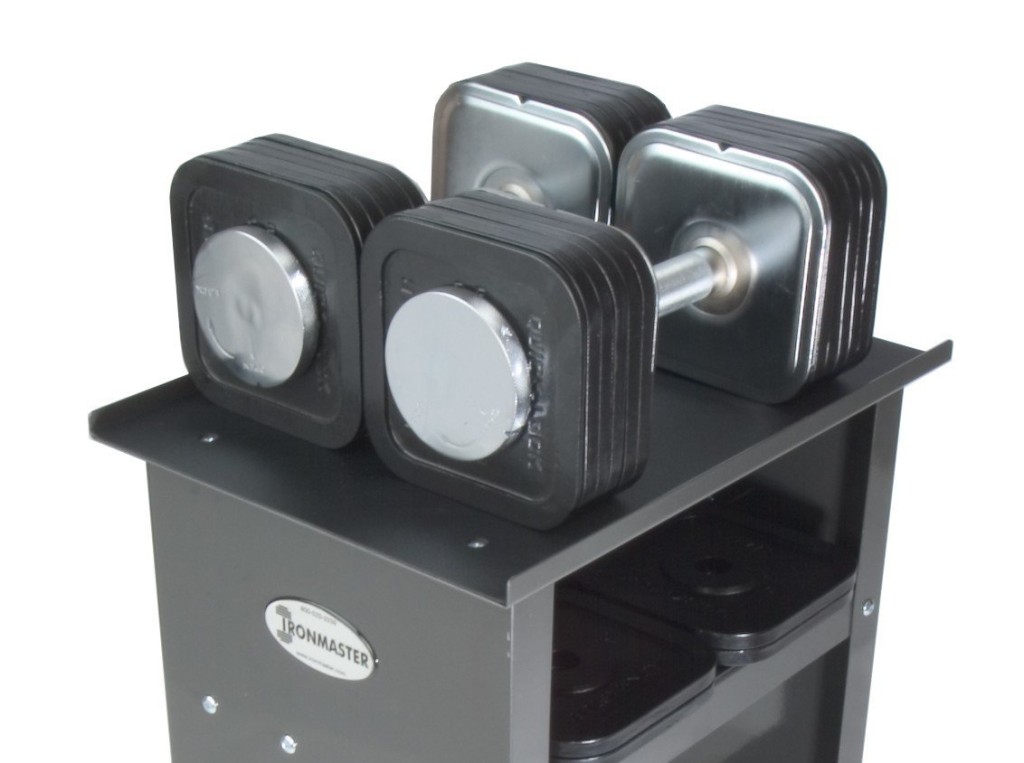 Ironmaster Dumbbells
With Ironmaster's Quick-Locking Dumbbells, the user can quickly adjust the weight to their specifications and begin working out immediately.
The convenience is quickly noticeable, regardless of which set you choose. While it is true that the dumbbells are a little big, this doesn't offset the weight.
Many users prefer these dumbbells, since they're able to offer more durability and will not shake and rattle, during use.
Below, we've put together a list of the best Ironmaster dumbbells currently available. Use this information to your advantage and choose the dumbbells that are best suited for your individualized needs.
---
 Ironmaster 75-pound Adjustable Dumbbells with Stand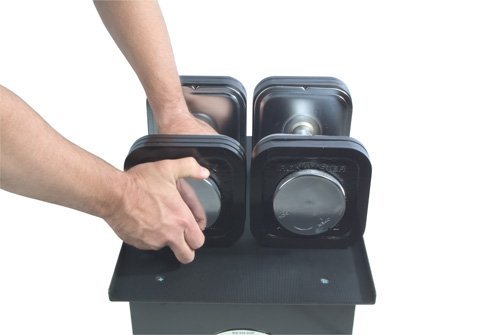 Anyone, who is serious able building an in-home gym facility, will want to explore this astounding combination. Not only do you receive the Quick-Lock dumbbells, which range from 5 to 75 pounds, but you also receive the convenient stand.
The stand is designed specially for the dumbbells and will ensure that your home remains clutter free and prevents you from tripping over your weights.
The Ironmaster 75-pound Dumbbells

The dumbbells are definitely sufficient for everyone, since they range in weight from 5 to 75 pounds. This is suitable for a newbie, or a hardcore bodybuilder.
The weights can be adjusted by the smallest of increments, which helps to assure you receive the most accurate weight possible.
Remember that this package includes a dumbbell set, which allows you to exercise both arms, at the same time. The Quick-Lock system is much different than the dial system.
The circular knob at the end needs to be removed, before the weights can be added or subtracted. This is a little more time consuming, but nothing significant.
Pros

There are definitely a lot of positives with this particular set, including a limited lifetime warranty. The price is actually very justifiable, since you receive 2 dumbbells, a stand and an exercise poster.
The stand, which only consumes 2 square feet, helps to keep your home clean and tidy. 75 pounds is more than enough for everyone and the adjustable increments ensure that you can get the particular workout that you're looking for!
Cons

Although the Ironmaster 75 pound Quick-Lock Adjustable Dumbbells (click for more detail and link to buy it online) are definitely unique and efficient, they're not necessarily as flexible, as the turn dial systems.
A little more effort is needed to change the weights. However, this can help to provide you with a more durability and the benefits may offset the inconvenience.
---
Ironmaster 45 lb Quick-Lock Adjustable Dumbbell System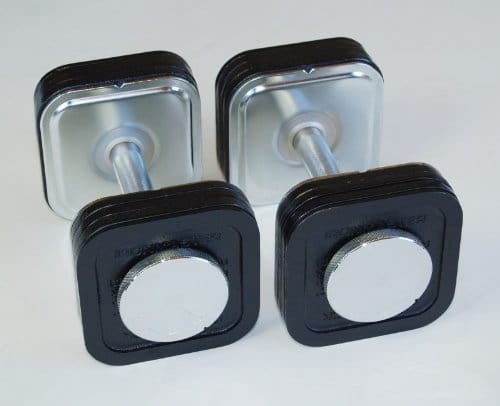 Ironmaster holds a reputation like no other brand, since its products are constructed out of extremely durable materials.
The 45 lb dumbbell set is no different, as they are developed out of solid steel, with a chrome plated exterior, which will prevent tarnish and rust.
Home gym equipment is supposed to be capable of handling normal wear and tear, without the athlete being concerned of damaged parts.

Universal Poundage
Most athletes prefer to switch out their weights in an extremely quick and convenient fashion. The Ironmaster offers this option with universal poundage.
Each plate weighs 5 pounds, which allows you to adjust the poundage up to 45 pounds top. Remember that the handle weighs in at 5 pounds, without plates and the locking screws weigh 2.5 pounds.
A total of 10 pounds, without plates is exactly what each dumbbell weighs. All of this needs to be factored into the equation, when you are selecting a weight preference for your exercise routine.

An Entire Set
This set may carry a little higher price tag, but remember you do receive two handles, with four locking screws. This is extremely helpful, when it comes to working out both arms and legs evenly.
You will not be forced to spend more time in the workout room trying to work out both sides of your body, since you are provided with an entire dumbbell set.
You will actually save money, since you do not have to spend extra on another set, so that you can receive an equal workout for your upper and lower extremities.
No Vibration or Rattling

Have you ever utilized a dumbbell set that the plates are constantly clanging together, with an annoying rattling noise?
That will never be an issue with the Ironmaster, because the locking screws will allow you to tighten the plates securely in place, without wasted space.
You will be able to enjoy your tunes and workout, without any strange noise interferences.
---
Ironmaster Quick Lock Dumbbell 120 lb Add on Kit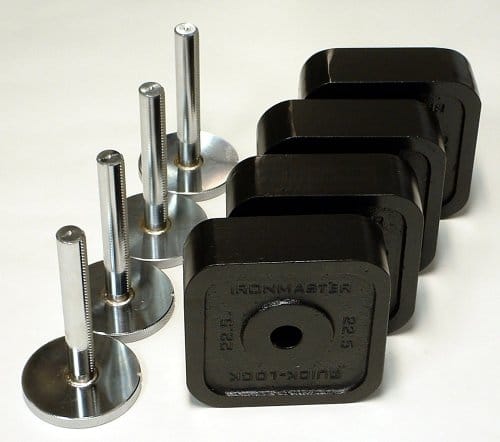 If the 75-pound weight isn't enough for your particular needs, you can consider upgrading to this sufficient add-on kit. With this kit, you can actually up the weight of the dumbbells to 120 pounds.
Adding the existing weight to your current set is actually effortless and works in the normal manner. Increasing the weight over 75-pounds cannot be done, without this kit, which includes longer locking screws.
The Benefits

The kit is capable of allowing extreme bodybuilders to increase the total weight of their dumbbells to 120 pounds. Each individual plate weighs 22.5 pounds and the entire package comes with 4 individual plates.
The longer screw ensures that your dumbbells will be able to work appropriately with the additional plates. The transition is simple and can be completed in a matter of minutes.
Disadvantages

The overall cost is somewhat expensive for the weights and nothing else. The consumer is unable to receive additional dumbbells, which may or may not be a concern. Still, this is something to consider, if 75 pounds do not suit your individualized needs.
---
Conclusion

Ironmaster's dumbbells are definitely sufficient for many individuals. Although the adjustment system may be a little more complicated and time consuming, they're capable of offering improved durability.
The 75 pounds is generally enough for most individuals, but rest assured that the add-on kit allows the user to up the weight even more. When looking for adjustable dumbbells, Ironmaster is definitely a brand to consider.