Are you interested in exercising and getting into shape? This is definitely a wise choice and will help you improve your overall health, while also enhance your self-esteem. If you wish to achieve these goals in the comfort and privacy of your own home, you'll want to consider investing in a good treadmill that could be use to set up a home gym.
The treadmill market is fairly over-saturated, so attempting to find the best one for your specific situation can be very difficult. Although treadmills serve the same purpose and basically do the same thing, they're all different in various ways. The speed limitations, inclines and an array of other factors will set each treadmill apart. In order to find the one that is best for you, it is essential to learn about these features and your own precise needs.
Best Treadmill for Home Use – Comparison
S/N
Product
Name
Speed
Motor
Maximum User
Weight
#1
Nautilus T614
0-12 MPH
2.75 CHP
300 lbs/136 kg

Check Price

#2
Schwinn 830
0-12 MPH
2.75 CHP
300 lbs / 136 kg

Check Price

#3
ProForm Power 995i
0-12 MPH
3.0 CHP
350Lbs

Check Price

#4
Horizon Fitness T101-04
0-10 MPH
2.25 CHP
300-pound

Check Price

#5
LifeSpan TR1200i
0.5-12 MPH
2.75 CHP
350-pound

Check Price

#6
Weslo Cadence G 5.9
0-12 MPH
--
300-pound

Check Price

#7
Sunny Health & Fitness
0.5-9 MPH
2.2 HP
220Lbs

Check Price

#8
ProGear HCXL 4000
0-10 MPH
1.5 HP
400lbs

Check Price

#9
Confidence Fitness Power Trac
0.6-6.2Mph
735W/1HP
250lbs

Check Price

#10
Goplus Folding
0.5-9 MPH
2.25HP
220lbs

Check Price
See also: Best Rowing Machine Reviews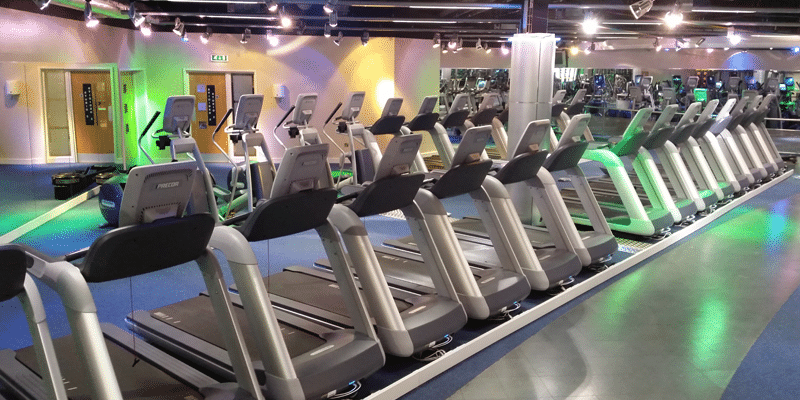 Best Treadmill For Home – What to Consider First

Before you begin scouring through the market's lineup of treadmills, it is first wise to consider your own individualistic preferences. How often to you plan on using the treadmill? Will you be utilizing the incline? How about the speed? Try to figure out how fast you wish to run.
Many treadmills, especially those that are less costly, will have limited speed options. If your treadmill is only capable of running five miles per hour, you may not be able to push yourself hard enough to achieve your goals. Once you've figured out exactly what you want from your treadmill, you'll be able to move forward and begin looking at specific models.
Company And Warranty
One of the most important things to take into consideration is the company behind the product. Some companies are more willing to stand behind their products, while others will hightail it at the first sign of trouble. Before purchasing a treadmill, it is a good idea to check the manufacturer's status with the BBB. If they have a lot of open complaints, you'll want to stay away.
Once you've confirmed that the company is indeed reliable, you'll want to look at the warranty offered. A lengthier warranty is always better and will help to provide you with added reassurance that your money has been well spent.
Maintenance
Treadmills are very similar to vehicles and need to be maintained properly, in order for them to withstand the test of time. Most importantly, you'll need to take good care of the running deck. All best treadmill for home will need to have their running decks greased every so often. This will help to extend the lifespan of your belt. Although all treadmills will require some degree of maintenance, some are more demanding than others. Make sure you choose a treadmill that you'll be able to keep up with.
Best Treadmills for Home 2018: Buying Guide
Now, it is time to examine some of the best treadmills for home use.
Best Treadmill For Home Under $1000
Nautilus T614 Review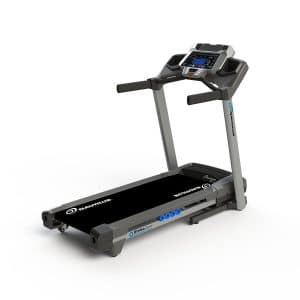 Whether you are looking to build a commercial gym or just add to your home gym, you are going to need good reliable equipment. That is exactly what the Nautilus T614 Treadmill can offer your gym. This treadmill comes equipped with a 2.75 CHP, which is capable of speeds up to 12 miles per hour. It can also be inclined up to 12 inches.
The treadmill also comes with 22 available workout programs 1 manual, 5 training, 3 quick goals, 5-heart health, 3 intervals, 3-weight control, and 2 customs.
New And Improved LCD Monitor
The Nautilus T614 features a high-resolution blue backlit LCD monitor that will keep track of your entire workout. It can track the distance that you have ran or walked, the time of your workout, and the number of calories that you have burned. The console includes a USB port and media shelf, where you can place a magazine, tablet, or book.
One thing that sets this treadmill apart is the StrikeZone cushioning system. The system features 4-cell cushioning that is capable of providing a smooth and quite workout unlike anything you have ever experienced before. With a running surface of 20 by 55 inches will provide you with ample room to maneuver about.
This innovative treadmill is backed by a warranty that guarantees quality performance. The frame and motor comes with a 10-year manufacturer's warranty, 2-year mechanical warranty, 2-year electrical warranty, and 90-days labors warranty.
Notable Specifications
StrikeZone cushioning system
20 x 55 inch running surface
USB charging port and media shelf to store your devices
Includes a variety of warranties
22 Built-in different workout programs
LCD backlit monitor
Overall Assessment
Working out on a daily basis can be hard it will be even harder if you don't have equipment that you can depend on. Nautilus is a good name brand piece of equipment that you can rely and count on from time to time.
Click Here to Buy Nautilus T614
---
Schwinn 830 Review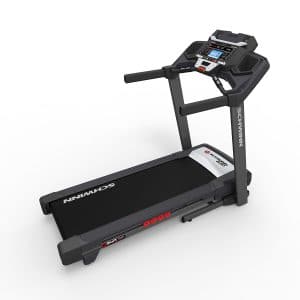 If you need a good reliable, fun, and full of features treadmill to add to your gym, you need to check out the Schwinn 830. The Schwinn 830 is equipped with a powerful 2.75 CHP motor that will provide a high performance workout every time.
The treadmill also features a SoftTrack cushioning system that provides superior comfort and smooth running experience. You can choose between 12 different speeds and incline levels to put your cardio and fitness to the test.
The 830 treadmill features a 20-inch x 55-inch running deck, which gives you plenty of room for running, walking, or jogging.
22 Different Workout Programs
The Schwinn comes preprogrammed with 22 different workout programs that you can choose from. 1 manual, 5 training, 3 weight control, 3 quick goals, 2 customs, 3 intervals, and 5-heart health. The new and improved console also features a USB charging port where you can hookup your own devices, so that you can upload your results to online fitness websites.
The backlit LCD monitor allows you to easily keep track of your daily goals. You can see how many calories you burned, your workout distance, and the time that you have been working out.
Notable Specifications
Backlit LCD monitor
22 preprogrammed workouts
Powerful 2.75 CHP motor
SoftTrack cushioning system, decreases stress on joints and spine
12 different speeds and incline levels
20 x 55 inch running deck provide more room
USB charging port allows you to connect your own devices
Several different components are under warranty
Overall Assessment
Choosing the right workout equipment to meet your daily, weekly, or yearly goals can be difficult. Schwinn is a name that you can rely on and the 830 model is no different. Don't forget, the frame and motor are backed by a 10-year warranty. You also receive a 2-year mechanical and electrical warranty, and a 90-day labor warranty, making the price tag a little friendlier.

Click Here to Buy Schwinn 830
---
ProForm PFTL99715 Power 995i Review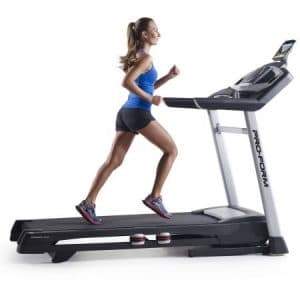 Getting into shape will not only make you healthier, but the whole process can be really exciting. However, you are going to need good equipment to get excited about. If you are looking to get into shape you simply cannot go wrong with the ProForm PFTL99715 Power 995i.
ProForm wants your workout to be a comfortable experience, which is why they designed the 995i with an extra-wide 20" x 60" running deck. With this new extended deck, you will not feel so confined as you walk, jog, or run your way to success.
The treadmill is also equipped with a unique built in fan that will provide you with cool comfort as you are working out. The fan has two different speed options, so you can choose the airflow to match your workout.
ProShox Cushioning
ProForm's number one goal in creating a treadmill is to provide a comfortable, high performance workout. This is why all of their treadmills including the 995i are equipped with specialized cushioning that is situated throughout the running deck.
This cushioning system was designed to put less on your feet, ankles, knees, and hips as you walk, run, or jog. This means you will not only be able to work out longer, but you will also be able to recover faster and prepare for your next workout.
The treadmill also comes equipped with a lifting running deck, so that when you are not running you can place the running deck in the air. This will help you keep clutter-free home and makes it much easier to clean under the running deck.
Notable Specifications 
Choose between 12 different speeds and incline options
Space saver design
ProShox cushioning system
Workout fan installed on console
iFit enabled
3.0 CHP motor
Overall Assessment
At the end of the day, you will have to pay a little more for this treadmill, but you can see that it offers features like nothing else on the market. With the iFit technology you can download maps and runs trails from all over the world.
Click Here to Buy Power 995i
---
Horizon Fitness T101-04 Review
The Treadmill Doctor rated the Horizon Fitness T101-04 Treadmill as one of the "best buys". If you are in the market to get in shape this is a must have for any gym. The treadmill comes equipped with 30 different pre-programmed workout options including manual workout, 10 distance workouts, 10 step-goal workouts, 3 interval workouts, and 6 calorie-based workouts.
The 2.25 CHP motor provides a powerful, quiet, and stable workout every time you step on the treadmill. The motor is also very responsive, as it will immediately adjust to speed changes and keep the pace with you.
Simple Assembly
One of the most difficult things about ordering a treadmill is the assembly process. Sometimes it can take hours to put a treadmill together. However, this is something you never have to worry about with the Horizon Fitness thanks to the smart design and simple assembly. You can have the treadmill together and ready to use in 15 minutes or less. The dimensions of the treadmill are 70 x 34 x 55 inches.
On top of all of this the Horizon comes with a variable response cushioning deck that gives you just the right amount of absorption and support while you are running, walking, or jogging. Thanks to this new innovative design, you will put much less stress on your knees, hips, feet, and ankles.
Notable Specifications
2.25 CHP motor that is powerful and quite
Variable response cushioning
Very simple assembly
Two hydraulic shocks that assist when raising or lowering the running board
5" backlit LCD monitor display
30 different preprogrammed workouts
A variety of different warranties included
Overall Assessment
If you are looking for a fairly priced treadmill that comes packed with the features of the most expensive treadmills, the Horizon T101-04 is perfect for you. A lifetime warranty on the frame and motor, 2-year warranty on the parts, and 1-year labor warranty back the durability and reliability of the treadmill.

Click Here to Buy Horizon Fitness T101-04
---
LifeSpan TR1200i Folding Review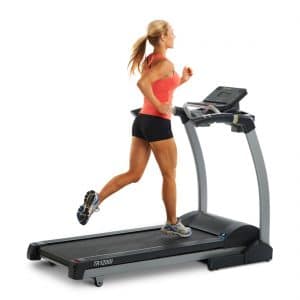 Choosing the perfect treadmill today can be quite the task, because there are so many options to choose from. However, the LifeSpan TR1200i is a good affordable and reliable treadmill that will stand up to the test of time even through the toughest of workouts.
Installed inside the TR1200i, you will find a 2.5 HP continuous-duty motor that was built only with the most reliable and highest performance parts. The experts with LifeSpan really pride themselves on putting the longest lasting motors into their treadmills.
The running deck also features 6 separate compression shocks, which will provide extreme cushioning to all your joints, so you can enjoy your workouts to the fullest.
Easily Keep Track Of Your Results
Keeping track of your workout progress is key to obtaining and surpassing your goals. With the TR1200i, keeping track of this information has never been easier. On the console, you will find a built-in USB port where you can insert a USB drive.
The system will update your results every 20 seconds and when you are done with your workout, all you have to do is insert the USB drive into your computer, open your club account, and upload your data. With this new technology, you will be able to review all of your progress through your home computer, smartphone, or tablet.
The TR1200i is also installed with Intelli-Step, which is the most accurate software available on the market. It will completely and accurately keep track of every step or stride that you make on the treadmill without missing a beat. The treadmill is also equipped with a safety feature that automatically pauses belt motion within 20 seconds of stepping away from the running deck.
Notable Specifications
Lifetime warranty on frame and motor
Powerful 2.5 horsepower motor
Spacious 20-inch x 56-inch running deck
6 separate shock absorbers
Hydraulic shock assists in lifting and lowering the running deck
Built in USB port helps keep track of your progress
Intelli-Step is the most accurate step counting software on the market
Built in safety feature stops belt motion 20 seconds after stepping away from deck
Overall Assessment 
Working out can be exciting and healthy as long as you choose the right equipment. You will simply never get bored or stop getting results with the LifeSpan TR1200i Treadmill.
The treadmill is incredibly versatile and is capable of doing it all. It is truly a pleasure to use and will give you the ability to achieve your fitness goals in the most comfortable way possible.
Click Here to Buy LifeSpan TR1200i
---
Best Treadmill Under $500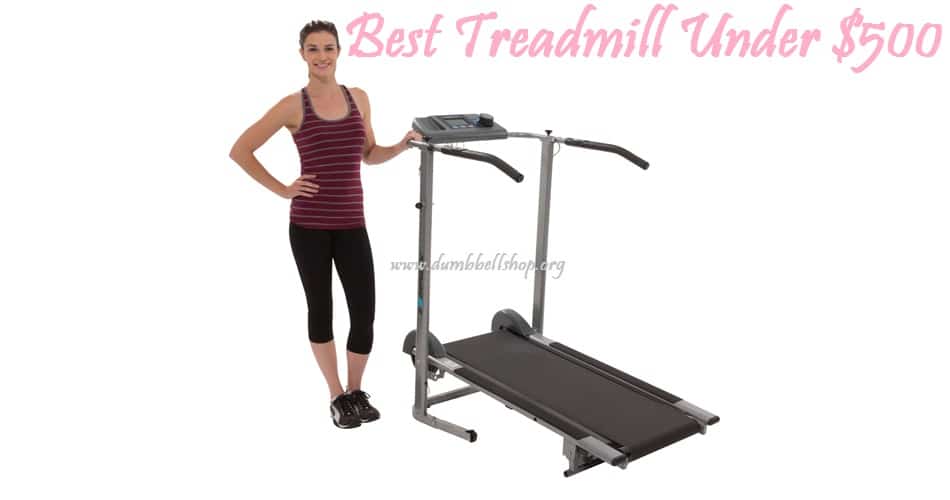 Weslo Cadence G 5.9 Review


If you have limited space in your home for a treadmill, you will need to invest in a machine with a space-saving design. Well, the Weslo Cadence 5.9 may be exactly what you are looking for, because it will fold up to free up space.
While, this is a very affordable machine, it is still capable of performing at a high rate of speed. The incline can be adjusted to only levels, but this is suitable for most people. Over the past few years, Weslo has gained enormous popularity for their ability to produce excellent treadmills with affordable price tags. The Weslo Cadence G 5.9 is an excellent example of this.
The treadmill is very affordable, yet it replicates the much more expensive competitors in many regards. The treadmill features a space saver design, which allows the treadmill to fold up after use.
This makes it possible to use the equipment within small homes, condos, and apartments. The G 5.9 also features two inclines and six pre-programmed workouts. The features and durability of the product truly exceed the price tag.
Does It All
When taking the time to look at the Cadence G 5.9 and its price tag, one could easily form the misconception that the product is limited. This couldn't be further from the truth. The treadmill is surprisingly very versatile. It does what many more expensive treadmills do, yet won't cost you an arm and a leg.
It offers an incline, cushioned running deck, six trainer workouts, and a fancy LED screen. If you want all of the bells and whistles, but refuse to spend excessively, the Cadence G 5.9 may be the best choice for you! The motor, parts and labor are covered by a 90-day warranty.
Notable Specifications
Features a cushioning running deck
Equipped with 6 workouts
Excellent for walking or running
Accommodates up to 275 pounds of weight
Offers maximum speeds of 10 miles per hour
Offers two incline positions
Treadmill folds up, so you save space
Electronic display keeps track of your progress
Overall Assessment
The Weslo Cadence G 5.9 Treadmill might be low on cost, but it is certainly not low on features. The treadmill does almost everything a much more expensive treadmill can do, but it'll save you a substantial amount of money. The device supports up to 275 pounds of weight and offers speeds of up to 10 MPH, so it can truly accommodate almost anyone. The price makes this product an excellent value.
The Weslo Cadence G 5.9 does require a bit of assembly, but the instructions are very self-explanatory. This is a quality treadmill for the price, plus it is very compact, so you can place it anywhere in your home.
Click Here to Buy Weslo Cadence 5.9
---
Sunny Health & Fitness Review

Another affordable, but quality treadmill is the Sunny Health & Fitness. This machine is perfect for those that live in a small apartment or flat. With a running surface of 15-3/4" X 48.82", you will have plenty of space for an average size male. The treadmill has a fold-up design to free up extra space, plus it has a Soft Drop System that will gently lower it back down to the floor.
Why Go For Sunny Health & Fitness?
Finding an affordable treadmill that provides reliability and durability can be difficult. That was until you discovered the Sunny Health And Fitness Treadmill. While this treadmill might be one of the cheaper on the market, you should not let the price fool you, because it comes loaded with features and proves to be one of the most durable and reliable treadmills on the market.
If your home gym does not offer a lot of space this compact treadmill will be perfect for you. The dimensions of the running deck are 15.75 by 48.82 inches. The running deck can also be folded into the air when the treadmill is not in use to save even more space. The running board is equipped with a soft drop system that makes unfolding the running deck simple, safe, and easy every time. You will also find built-in wheel for easy transportation of the product.
Backlit LCD Display Screen
The large backlit LCD display is easy to read, so that you can keep track of your progress throughout your workouts. The console also comes equipped with a smartphone or tablet holder where you can place your devices while you work out. By accessing the LCD display you can choose between 9 different preprogrammed workouts. The treadmill is capable of reaching maximum speeds of 9 miles per hour and has 3 different incline options to test your cardio. However, the incline levels will need to be manually adjusted from under the running deck.
Most Notable Features
Folding deck saves space
Soft drop system provides safe and easy access to lowering deck
Handrail controls allow you to easily adjust speeds, start, or stop treadmill
Capable of reaching 9 miles per hour
Backlit LCD display is easy to read and use
3 different incline levels that are manually adjusted
9 different preprogrammed workout options
Features
Extremely affordable
9 Preset workout programs to choose from
LCD display is larger than average, so the controls are visible and you can monitor your progress
3-Level incline
Maximum weight capacity of 220 pounds
Drive system – 2.20 Peak horse power
Measurements – 62.2" L X 26.8" W X 18.3" H
Maximum speed – 9 MPH
Weighs 103 pounds
Overall Assessment
This affordable treadmill would make a great addition to any home gym, especially the ones that are short on space. The folding deck and transportation wheels provide maximum convenience for space saving and moving the treadmill. With the 9 different preprogrammed workout options you will never run out of workout options.
Overall, the Sunny Health & Fitness treadmill is a wonderful machine that is capable of enhancing your workout in more ways than one. Do not be fooled by its low price tag and compact size, because it will offer the same benefits as a more expensive brand, just without all of the extra unnecessary features.
Click Here to Buy Sunny Health & Fitness
---
ProForm Pro 7500 Reviews

Nothing makes a great addition to a home gym like a treadmill. A treadmill can really help you cut the weight and greatly improve your cardio. With that being said, there are thousands of different makes and models of treadmills available on the open market. How do you know which ones are good and bad?
Well, if you are in the market for a treadmill, you need to check out the ProForm Pro 7500 Treadmill. Have you ever been curious what it would be like to run a Barcelona trail? Well, with the ProForm Pro you can make this curiosity a reality. Simply just use Google Maps to create your own route.
The treadmill is so smart that it will actually incline and decline on its own based on the route that you choose, so it will as if you are actually running in Barcelona. On top of this, there are thousands of different trails that you can choose from. Incline training has been a game changer in the fitness world. Inclining capabilities give you the ability to prepare your body for any hill or valley.
Incline running also burns more calories. With the Pro 7500, you can automatically adjust the incline or decline of the treadmill within a matter of seconds. The ProForm is capable of a 0 to 15% incline. You can also choose from a 0 to 3% decline, if you want to do a little downhill training.
Beautiful full-color touchscreen
Compatible with iFit
Plenty of incline and decline options
Extensive warranties on all components
Plenty of support and cushioning
The ProForm Pro 7500 Treadmill is equipped with a 4.0 CHP Mach Z commercial motor. This motor is durable, strong, and proven to last even through the most strenuous workouts. The commercial motor is designed with a large frame, which creates a high level of inertia for a strong powerful feel. It is also designed to stay cool even during the toughest workouts.
However, the best thing about the motor is that it comes with a lifetime warranty, so you never have to worry about paying to replace it. ProForm wants your home workout to be a comfortable one, which is why they designed the 7500 with a 60" x 22" deck. The 60" deck gives you plenty of room to extend your stride as you walk, run, or jog.  The 22" width makes sure that you have plenty of elbowroom, so you won't have to worry about running off of the side.
Not Available
---
ProGear HCXL 4000 Electric Review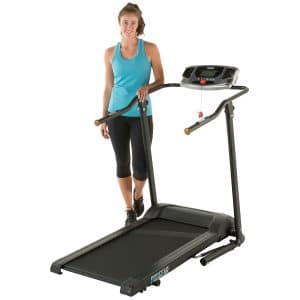 There is nothing more exhilarating then running on a treadmill in the comfort of your own home. In order to get the most out of your workout, you will need to invest in a treadmill that is capable of keeping up. The ProGear HCXL 4000 may be just what you are looking for, without breaking the bank.
The onboard powerful 1.5 horsepower motor is capable of producing enough constant torque to prevent slowdowns. Even though the motor is powerful, it utilizes "Quiet Drive" to keep the noise level to a minimum.
Weight Capacity
The HCXL 4000 is capable of holding a maximum weight capacity of 400 pounds. This number is quite significant, when you consider the fact that this is a cheaper treadmill. The 1.5 HP motor will be able to keep up, even at the maximum weight capacity.
Unlike other models, you will not experience sluggish slowdowns, when you place your foot on the running platform. The frame is reinforced to ensure durability and longevity. The HCXL 4000 weighs around 120 pounds, so you may need a little assistant with the assembly process. The running platform is 40" L X 20" W, which is substantial for those that like to job or walk their way to a healthy body.
Notable Specifications

Maximum weight capacity of 400 pounds
Maximum speed – 4 miles per hour
Manual incline, with 2 height options
Fold-up design
Onboard 1.5 HP motor
Operates at low dB
Easy assembly process
 Overall Assessment

The ProGear HCXL 4000 is a great treadmill for someone that is trying get into shape. If you classify yourself as an athlete, you will need to select another model, because this one will only reach a maximum speed of 4mph. This is the perfect model for individuals that suffer from obesity, poor coordination, and balance. The fold-up design will allow you to store the machine in a location, where it will be out of the way.
Click Here to Buy ProGear HCXL 4000
---
Confidence Power Plus Electric Review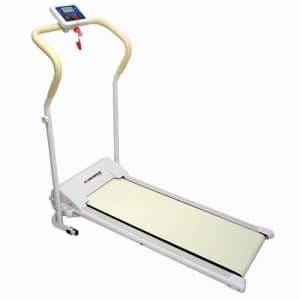 It is incredibly difficult to find another motorized treadmill that is just as affordable as the Confidence Power Plus. Of course, you shouldn't allow the product's low cost to fool you. It packs a punch and parallels the much costlier alternatives in some categories. Despite the low cost and small stature, the treadmill is capable of accommodating those weighing 250 pounds and less.
And, it features a multi-function LED display. This allows the user to keep track of their progress at all times. The treadmill is also equipped with a safety shutoff mechanism. The equipment will automatically shutoff, if you fall and the safety peg disconnects from its slot.
Compact, But Capable
When the Confidence Power Plus Treadmill is fully assembled, it will stand at 49 by 24 by 11 inches. The user will be able to enjoy a large running deck of 38.5 by 14 inches. The treadmill only weighs 56 pounds. Despite its small stature and light weight, the equipment is very versatile.
It can be used for running and walking, without too much difficulty. And, some users will be able to burn up to 900 calories each hour they utilize the device. The treadmill also folds up, so it can be stored away with ease, once the workout has concluded. The user interface is easy to use, since all of the buttons are clearly labeled. This makes adjusting the speed simple.
Notable Specifications
Available in black and white
Capable of supporting 250 pounds of weight
Folds to a compact size for easy storage
Suitable for running and walking
Weighs just 53 pounds
14-inch wide running deck should be sufficient for most
600W motor offers plenty of running and walking speeds
Overall Assessment
The Confidence Power Plus is an excellent option for consumers, who want a compact and very affordable motorized treadmill. It is lightweight, easy to assemble, and more than capable of providing you with an excellent workout. For the price, it could easily be considered a steal.

Click Here to Buy Confidence Power Plus
---
Phoenix 98510 Easy-Up Manual Review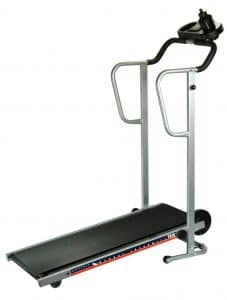 If you have limited space and a small budget to work with, you should consider investing in a manual treadmill. This type of treadmill does not have a motor, so you will be responsible for forcing the belt to turn. The Phoenix 98510 Treadmill is one of the best manual treadmills on the market. It is compact, very durable, and the frame is protected by a 1-year warranty. The treadmill might be basic, but it will still provide you with an excellent workout, without clogging up too much space inside of your home or emptying your bank account.
Compact, But Spacious
The Phoenix 98510 measures in at 46.5 by 50 by 21.1 inches. This makes it suitable for all dwellings, including small apartments and condos. Despite the treadmill's small stature, it still features a spacious running belt. The belt itself measures in at 41 by 13 inches. This should be a sufficient amount of room for the average individual. Also, you can easily fold the running deck in an upright position to make it more compact. Although this treadmill is fairly simplistic, it still features an electronic panel, which keeps track of distance, calories, and time for your runs.
Notable Specifications
Very affordable manual treadmill
Incredibly compact and very lightweight
Frame is protected by a 1-year warranty and 90-day warranty on parts
Folds up for easier storage
Self-powered workout will push you to your limits
Electronic screen tracks your progress and displays time, distance and calories burned
Running deck is 41 by 13 inches
Capable of accommodating 250 pounds
Overall Assessment
At the end of the day, a manual treadmill might not be suitable for many consumers, but it will be perfect for some. If you're looking for a great manual treadmill, you should look no further than the Phoenix 98510. This product is lightweight, compact, reliable, and protected by a lengthy warranty. What more could you ask for?
Conclusion
At the end of the day, the market is over-saturated with excellent treadmills. Any of the 10 above would prove to be an excellent investment, but only one will be right for you. Take the time to formulate a list of preferences and calculate your budget. Then, use this information to guide you in the right direction.
Click Here to Buy Phoenix 98510 Easy-Up
---
Characteristics To Consider When Buying Best Treadmills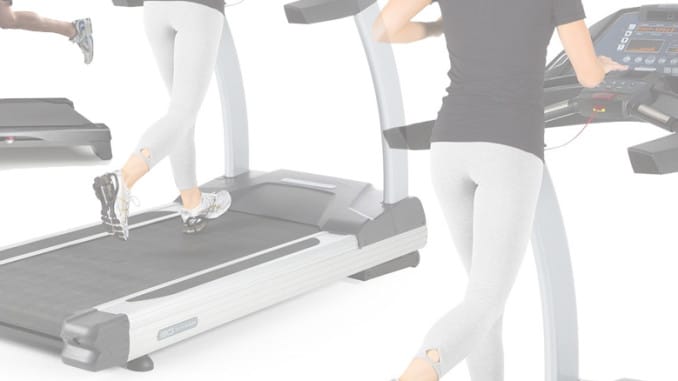 Treadmills are costly and somewhat difficult to get to your door. Therefore, you'll want to put in a substantial amount of effort to ensure you make the right choice on the first attempt. Below, you'll discover some of the characteristics to consider, when trying to buy a treadmill.
Console – All treadmills will come with some type of control panel and an LCD screen. The console should give you complete control over each and every one of the treadmill's settings. With the push of a button, you should be able to manipulate the speed or incline. The numbers should be easily distinguishable and the LCD screen should display all key statistics, such as your mileage and the calories you've burned.
Shock Absorbing – One of the biggest benefits of treadmills is the fact that they're fitted with a reliable shock absorbing system. This makes running on a treadmill much more forgiving and much less damaging on your joints than running on concrete or another hard surface. The treadmill should provide you with plenty of support and should absorb the majority of the shock, so you can run without hurting yourself or permanently damaging your knees.
Motor And Speed – The treadmill's motor is incredibly important. Closely examine the power of the motor, as this will tell you precisely how fast the motor can turn the treadmill's belt. Obviously, a more powerful motor will be able to provide you with faster speeds and a more grueling workout. Also, be sure to check out the warranty on the motor.
The motor does most of the work, so it'll most likely be the first item to wear out and malfunction. It should be protected for several years at least. This isn't necessary for everyone and it can increase the price to some degree, so if you don't need an incline, you should avoid it and save yourself a little money.
Other Features – Finally, you should know that treadmills have improved greatly, as technology has done the same. Nowadays, they're equipped with built-in fans, MP3 and iPod connectivity, and even pre-configured exercise programs. Again, these features might not be essential for everyone, but if you feel you need them, you should make sure your treadmill of choice has them!
A Comprehensive Buying Guide For The Best Treadmill
In the past few years, a large quantity of the population has discovered the importance of getting in shape and improving their health. This has forced a lot of people to take up some type of workout regimen. And, it is true that a workout plan isn't complete without a sufficient amount of cardio.
Unfortunately, a lot of people live in areas, where it is simply unsafe to run along the streets. This will force them to join a gym or purchase a treadmill. When taking the time to evaluate both options, you'll find that buying your own treadmill will actually be the better choice. Within this guide, you'll find out why and you'll also discover how to purchase the best treadmill for your home.
The Benefits Of Owning A Treadmill
When it comes down to it, the benefits of owning a treadmill are enormous. Many women and men will look at the price and disregard the perks. This is a major mistake. Take a look at the benefits below, so you can discover the true value of having a treadmill in your home.
As a treadmill owner, you'll be able to run whenever you want. This may not be the case with a gym membership, when you factor in the gym's schedule and your commute. With the treadmill, you'll be able to set your own schedule.
Since you'll be able to avoid the commute, you will also be able to avoid paying for gas! Over a period of time, the amount of money saved on gas will be substantial.
You'll never have to worry about paying for a gym membership. Initially, the price of the treadmill might seem steep, but it'll pay for itself in the long run. After a year or two of gym membership, the treadmill's initial cost will be worth it.
More importantly, owning a treadmill will give you the ability to remain healthy. Since you'll see the equipment each and every day, you'll be more inclined to work out and this will ultimately force you to lose weight and get into shape.
What To Look For In A Home Treadmill
When attempting to invest in a treadmill, you'll need to put in the due diligence and make sure you carefully evaluate your options. There are numerous factors to consider and all of them should play a role in your final determination. Below, you will learn more.
Cost – Many consumers will put substantial emphasis on the price of the treadmill. This is wise, but this should not be the only factor that you consider. A more expensive treadmill will ultimately provide you with more features and additional longevity. However, not everyone will feel the need to run at 8 or 9 miles per hour. Therefore, a less costly treadmill will suffice for many.
Running Speeds – How fast do you wish to run? While some people will be fine with 4 or 5 miles per hour, others will want to run faster. Not all treadmills offer higher speeds. Therefore, you will need to figure out precisely what you want and make sure your treadmill of choice is capable of accommodating your needs.
Incline – Some individuals will prefer to run on an incline. An incline is a good way to enhance the intensity of your workout. If you wish to really challenge yourself and replicate running uphill, you'll want to invest in a treadmill, which offers incline functionality. However, incline functionality can increase the overall price of the treadmill, so you will need to determine whether or not this is something you truly need.
Warranty – Treadmills can be fairly expensive. So, you'll want to make sure you get the most out of your money. And, since treadmills have many moving parts, problems can occur at any point in time. This is why the warranty is of paramount importance. Try to buy a treadmill with the longest warranty you can possible find!
Fan – Some treadmills will be equipped with a fan. This isn't a necessity, since you can simply turn on the ceiling fan or plug one into an outlet. However, it is still something you'll want to consider.
Programs – As the years have passed, treadmills have gotten much more innovative. Today, some are equipped with pre-programmed workouts and some even offer audio clips, which can provide you with motivation. If you feel like you need the additional motivation or would like to follow rigorous workouts, you should consider adding this to features you need!
Size and Weight – The size and weight of the treadmill will not impact its performance. However, these two factors could very well help you determine whether or not the equipment is suitable for your home. Be sure to carefully examine the location, where you intend to place the treadmill. How much space do you have to work with? Take measures, so you'll know precisely how much room you have for the treadmill. The weight is important, because you'll want to make sure your home can support it. The floor must support your weight, as well as the weight of the treadmill.
Weight Capacity – One of the most important features that must carefully be explored when shopping for a new treadmill is the weight capacity. The maximum weight capacity will depend on the size of the treadmill, with smaller treadmills offering the minimum.
Most people invest in a treadmill that will be utilized by every member of the family. With this being said, it is important to make sure that the treadmill is fully capable of withstanding this type of stress. A 300-pound weight capacity should be suitable for average-sized individuals, if not you will need to look for a larger model.
Fold-Up Design – If you have a small home gym, you will need a treadmill that offers space-saving benefits. Most modern models have a fold-up design, with wheels for a more compact storage. The size of the running platform must also be considered. The larger model will have a running platform of around 20" X 60", which is fairly general and large enough for most male adults. Smaller treadmills will have a running platform of around 16" X 50", which is suitable for females, teenagers, and small-statured adults.
By carefully examining these features, you will eventually be able to narrow down your options and find the best treadmill for you and your family. Remember that price is important, but the other factors mentioned above should not be overlooked!