Rowing Machine are a great way to get a cardio workout in as well as improve your cardiovascular health without having to endure a high-impact workout. Rowing machines have seemingly gone through an evolution to now being available in a wide variety of modern, sleek and high refined exercise machines. There are many different types of workout machines available, but the rower is one of the few that focus on an entire body workout.
Top 10 Best Rowing Machine of 2018 – Comparison
S/N
Product
Names
Weight
Limit
Product
Dimensions
#1
Concept2 Model D Indoor
500 lb
(227 kg)
96x24x44.5in

Check Price

#2
Sunny Health & Fitness SF-RW5515
250 Lbs
82x19x 23in

Check Price

#3
Stamina ATS Air Rower 1399
250 Lbs
44.5x23x9in

Check Price

#4
Concept2 Model E Indoor
500 lb
(227 kg)
96x24x20in

Check Price

#5
WaterRower Natural
Rowing
1,000
pounds
83x24x21in

Check Price

#6
Sunny Health & Fitness SF-RW1410
220-lbs
59x29x21.2in

Check Price

#7
Stamina Avari Programmable
250 lbs
44x30x11in

Check Price

#8
Stamina Body Trac Glider 1050
250 lbs
50x12x10in

Check Price

#9
Velocity Exercise Magnetic Rower
275lbs
45x30x11in

Check Price
A rower might be just what you need in order to complete your workout regime at home. You won't have to go to the gym ever again! Because rowers are a unique type of machine, you'll be working muscles you probably couldn't without it; especially muscles in your lower back. These rowing machines come in many different types; each one offering different styles and features that should carefully be considered before you make your final decision on what machine you want to bring home.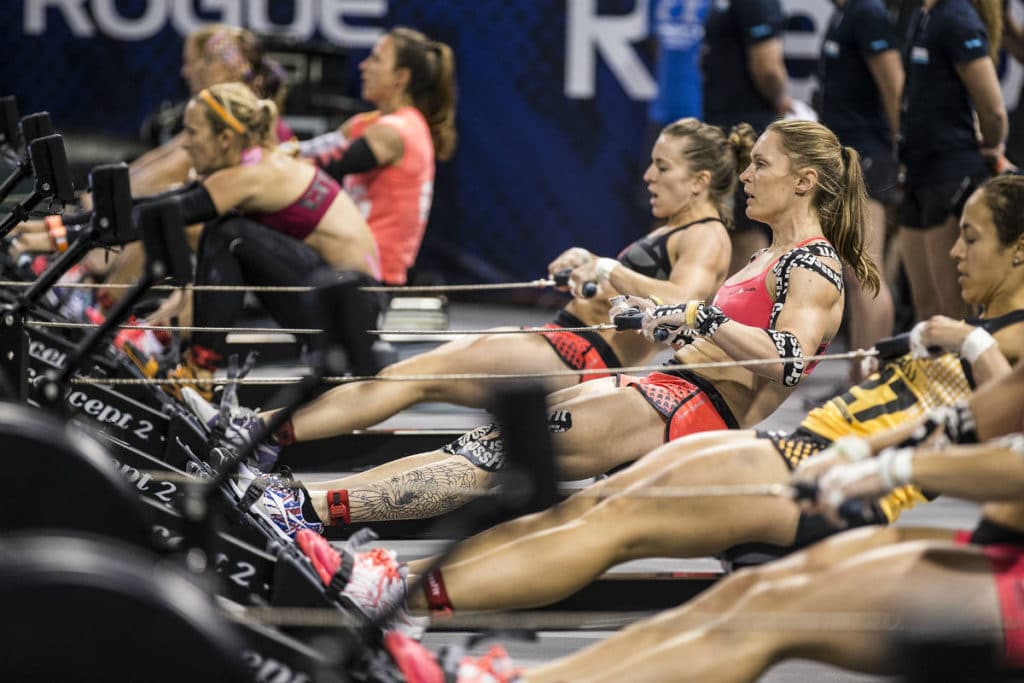 Row machines offer several types of resistance, each one having a unique feel of their own. Like most things in the real world, the higher the quality means the higher the price. That doesn't mean that you can't pick yourself up a rower at a lower price that is just as reliable as the best available.  You have many options to choose from; each rower offers their own perks and benefits. There are a lot of things you need to know about what rowing machines are available so we're going to go over several important variables. Included as well are in-depth reviews and descriptions of the best rowing machines available for this year of 2018.
How much do rowing machines cost?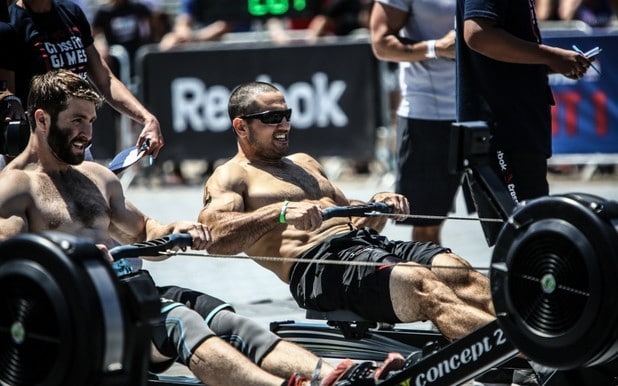 With so many rower machine models available, there also comes a wide price range for these pieces of equipment. The general price range guidelines for rowing machines fall between as low as $75 to as much as $1750, and sometimes even more than that!
It all depends where you look, if you have a brand preference, if you're looking for fancy features, etc. The array of rower in those ranges differ depending on the price, as you can probably imagine. Some rowers are pretty simple while other offer more complex features like heart-rate monitors and such. Even through all the different types of rowing machines, there will definitely be the perfect rower for you after factoring in your budget and what kind of machine you want.
Top Best Rowing Machine Reviews of 2018
Concept2 Model D Indoor Rowing Machine Review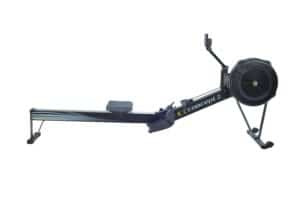 The Concept2 Model D Indoor Rowing Machine is the rower that you'll find most public gyms are equipped with. It is highly regarded as the best indoor rower you can buy and use at home. The machine looks great and moves fluidly; which means no "catching" is going to happen as long as you're rowing on it.
It is constructed phenomenally and there is simply no other rower that compares. The Concept2 is an air rower and it uses air to create a resistance. A chain is installed in order to pull the flywheel, which is the fan that creates the pressure you are pulling against; ultimately getting in your workout.
A feature that the Concept2 Model D provides is a PM5 monitor. It displays your performance and provides the vital data involving your workout. It works in two ways; you can either display the total time and distance or as something called "splits". With the splits setting, you can observe your performance pace according a pair of set points which shows you a more exact calculation of how you are doing at that very moment.
Another mentionable feature of the Concept2's PM5 monitor is that drag is calculated as a factor. This helps inform you of your workout effort regardless of a damper resistance adjustment that may have been made. The Concept2 Model D Indoor Rower is highly regarded by CrossFit enthusiasts as well. What can we say, the Concept2 is the perfect way to really get in an amazing resistance and cardio workout.
Click Here to Buy Concept2 Model D Indoor Machine
---
WaterRower Natural Rowing Machine with S4 Monitor
As you can tell by the name itself, this rower incorporates water as its form of resistance. There is a reason this is #2 on our list. Being a beautifully hand-crafted machine, the WaterRower is so finely tuned and holds a water flywheel so it does a phenomenal job of mimicking the real rowing of a boat.
It is so smooth yet it never ceases to challenge you; bringing you a tough and satisfying workout. Who knew that rowing a boat could be one of the best exercises for you? The WaterRower Natural Rowing Machine is probably the best at emulating the true natural row of a boat from the low (almost no) impact stance. Let's go into more detail about the amazing water flywheel that comes with this rowing machine. The water flywheel holds two paddles within a tank of water.
When the cable is pulled, paddles help create the resistance you are going against. Because of the unique design, the WaterRower utilizes the mass and density of the water. As the paddles resist and drag, depending on how you pull, then the resistance actually increases.
Imagine waving your arms underwater. If you move fast then the water feels heavier and the slower, not so much. This type of exercise is so good for your joints. The dynamic resistance that the WaterRower Natural Rower offers lets you take control of how intense you want your workout to be. The S4 performance monitor is very user-friendly and allows you to easily track your workout data as you row.
Click Here to Buy WaterRower
---
Stamina ATS Air Rower Review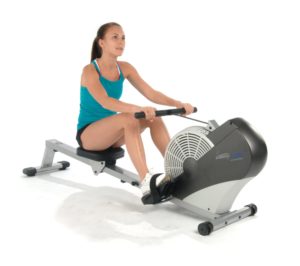 The Stamina ATS Air Rower is a great value when taken into consideration it's low price. Wind resistance is what this rower utilizes to give you a nice workout. It's a perfect rower to store and use at home because it is easy to store and has rolling wheels. It's nothing to store this machine in the closet.
Some might say that the way the Stamina ATS Air Rower uses air makes it one of the best of its kind. This air rower offers a speed monitor, timer and even a calorie count.
To help keep you in place, there are adjustable straps to keep your feet in place and any shoe size can fit. This machine was surely made to last and for your comfort.
Click Here to Buy Stamina Air Rower
---
Velocity Exercise Magnetic Rower CHR-2001 Review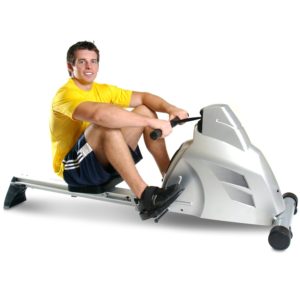 The Velocity Exercise Magnetic Rower powers its resistance magnetically. There are also 12 programs that features a computer to always variate your workouts for years to come.
Aside from that, the computer also shows distance, time, calories burned and pulse data, strokes per minute and as well as the total number of strokes. Personally control your resistance through the computer as well.
The Velocity's computer really takes it to the next level when you compare it to other magnetic rowers of its kind. Not to mention, a heart-rate strap is also available to help keep track of your pulse.
If you're really looking to be comfortable while you row, the Velocity Exercise Magnetic Rower CHR-2001 definitely offers that. A polyurethane seat along with the magnetic drum makes it super sturdy so you really don't need to worry about maintaining it.
To add to comfort, this machine is very quiet when you use it so its easy to watch some television or listen to some of your favorite tunes while exercising. You won't be bothered and the other people around you won't be either. Being surprisingly easy to put together, it's even easier to store. If you have a mid-ranged budget, then this rower is a great choice for you.
Click Here to Buy Velocity Exercise Magnetic Rower
---
Rowing Machine Reviews: Features to Consider
Different types of resistance
The Machines have the same basic design; but they hold differences in the way they create and provide you with the resistance. Otherwise, without this resistance, how would you call it a work out? The resistance is what makes your exercising on the rower effective. The four types of resistance offered with these machines are:
water
air
magnetic
hydraulic
Each type of resistance is different in its rowing method. Each one will definitely feel different than the other. Try each one out to see which you think is your best fit. Not all resistances are created equal.
Comfort and Ease of Adjustment
You definitely don't want to have an uncomfortable workout on your row machine. Choose a rower with a comfortable padded sear, nice foot pads and one that has adjustable features to fit your unique figure.
Noise Level
Some rowers are louder than others. Maybe you don't mind the noise, but maybe you do. If you don't mind then you don't really need to take the noise level into much consideration. On the other hand, if you or someone in your house hold might have a problem with noise levels being too high, you'll have to find a quieter machine.
To furthermore help with noise levels, don't place your rower in a small and cramped space. Give it some room to "breathe" comfortably in your home while at the same time being safe. The length of different rowers can vary and you can tell they are also very skinny; they are still going to take up a bit of space in your home. Keep in mind the available space in your home when choosing a rower.
The Price of the Rower
Because of the wide range of prices rowing machine can be, you'll have to decide what kind of budget you have. Luckily, rowers are available at high, medium and low price ranges giving you a big selection to choose from. More expensive rowers are made to last a long time and endure many many uses while with a cheaper priced rowing machine, you may have to actually maintain and eventually replace the rower.
Maximum Capacity
Rowing machines tend to be able to handle more weight than other gym machines. Other machines tend to have way more parts, which make heavier weight harder for them to endure. Because of the basic simplicity of a rowing machine, moving parts aren't as easily stressed compared.
Storage and Mobile Features
If your rower can be easily stored as if it never existed, then that is a huge and amazing plus. Find out how different rowers are stored and think about the space in your home. Can you fold the machine up and store it in a closet or other storage area? Some rowers fold up and are clipped with a pin to stay in place. Others have that and also provide rolling wheels on the bottom in order to easily roll the machine around. Regardless of the storage method, this is dependent on your preference and the space availability in your home.
Quality Computer or Monitor
Many great rowers will come with a computer to give you data on your distance, time, heart-rate, the calories burned and sometimes even more than that. Some rowers can even connect to apps for you to track your progress easily. These additional features are great if you're into more high tech equipment.
Rowers with more advanced technology will usually be on the pricier side. So if you're trying to stick to a budget, a more basic rower should work just fine for you.
How Easy it is to Assemble
Even though assembly is only once, you really don't want to end up with a mess of a rowing machine that's not only unusable, but dangerous as well. Please do your research on the assembly of different rowing machines. If you're not good with tools and following directions, you'll definitely want to stay away from anything that looks like a difficult puzzle to you. This may not matter to you if you hire someone to assemble it for you.
Warranty Guidelines
Make sure you get some kind of warranty that will help cover for you if anything happens within the first year of using your row machine. Wouldn't you just hate if something on it was faulty and the manufacturer wouldn't assist in replacing or fixing it?
The Many Benefits of Rowing Machine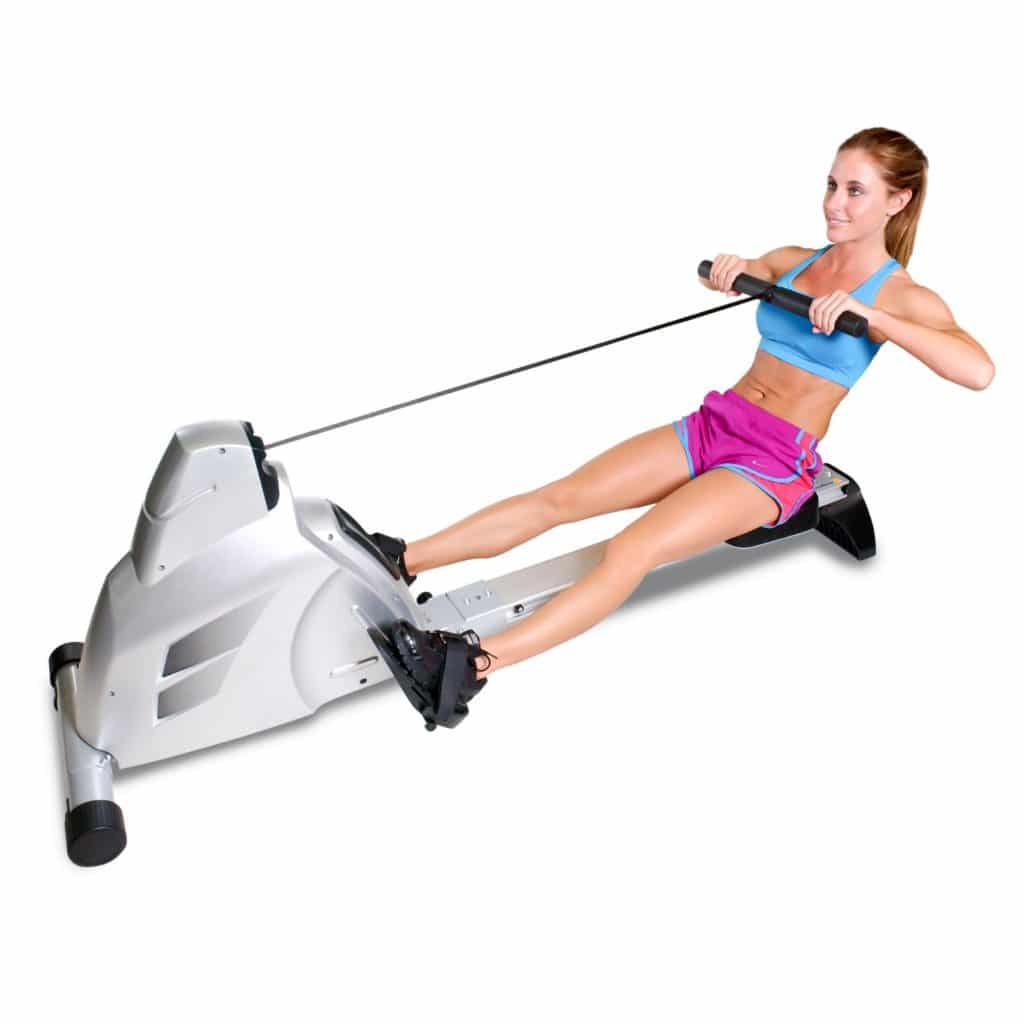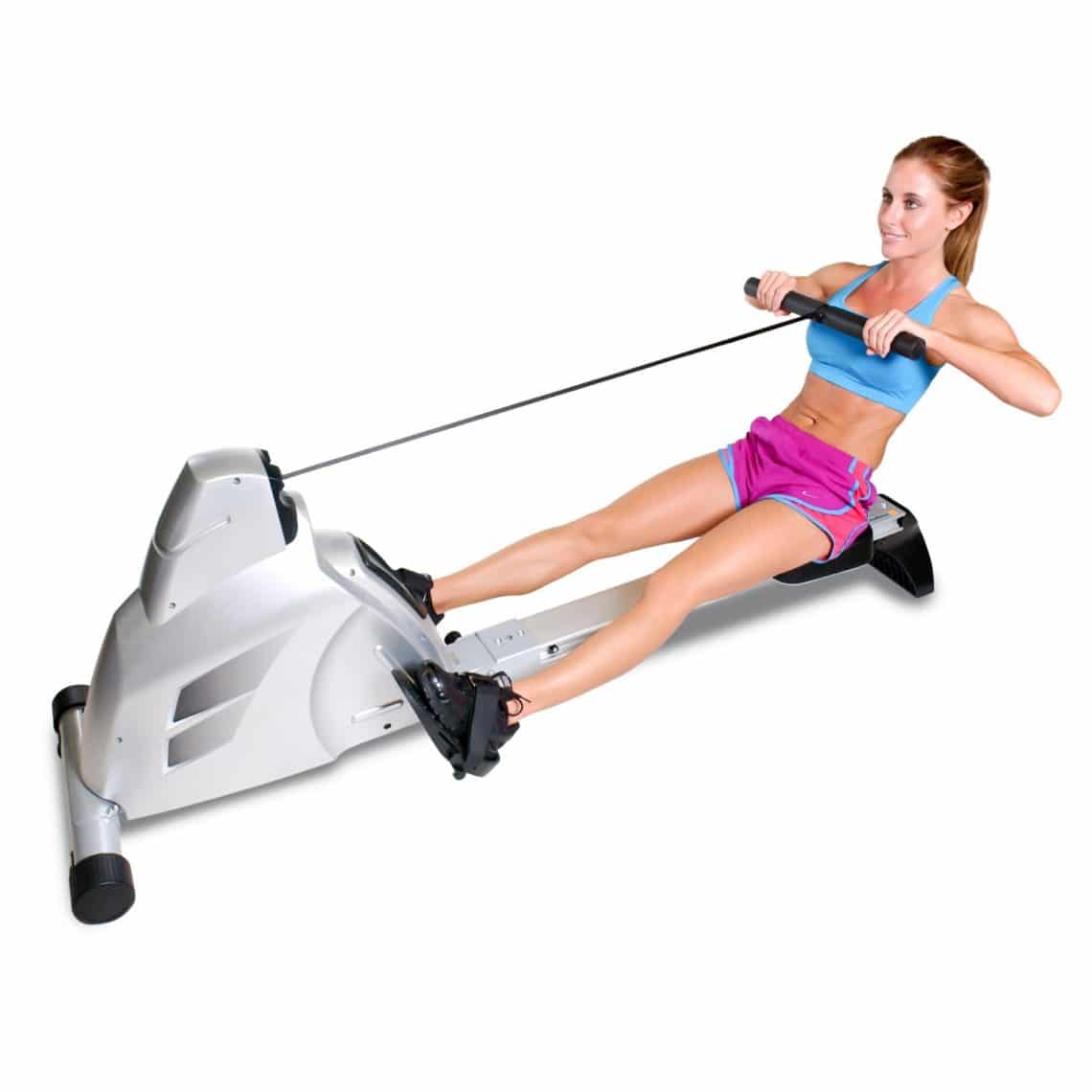 Rowing is a great way to add some cardiovascular workouts in your routine. Not only does it do that, but rowing machines overall work your major muscle groups. These include your glues, core, lower back, hamstrings, quads, shoulders and arms. What better way to get in a full body workout than with a rowing machine? Most rowers offer a speed monitor, timer and even a calorie count. As a low-impact exercising tool, it doesn't hold back from bringing on the challenge than any other higher impact exercise can give you.
By using a rower, essentially you are burning calories and toning the body. If you eat a healthy diet while regularly using a rower, weight loss can be achieved and noticed. Proper technique is very important when using any type of exercise equipment, including row machines. It is important so your workout is optimized and also so you end up putting yourself in any danger of damaging your muscles.
Most of the workout from using a rower is going to be in your legs;  your legs have some of the largest muscles in your body. Your back is prone to injury as well, this only happens if you are bending too much forward when you row. Try to sit up straight the whole time you row. It's a great prevention method and it's good to use good posture anyways.
Remember, there is a sliding seat on the rower for a reason – to help you move your legs. By implementing the use of your legs, you are significantly reducing the chance of pulling any muscles or causing any injuries. Whether these injuries happen in your back or arms, you wouldn't want that to happen, would you?.
It is also highly recommended to check with your doctor before following a new workout regimen. You never know if you have certain restrictions that you should be following because every person is built differently.
Losing Weight by Using Rowing Machines
When you put together cardio and muscle building, there's no wonder why it leads to super healthy weight loss. By getting yourself a rower, your goals of trimming down your fat are only made easier. Rower machines are one of the best ways to get a full body workout in which is important if you want to start losing fat. When you compare a rowing machine to a regular stationary back, more calories are going to be burning much more calories with a rower.
It's important to keep in mind if you have any problems with your upper body regarding physicality because a bike will be better for you. The rower machine though focuses on your whole body, giving you an ultimate body workout. In order to really lose weight while rowing,you need to go hard. That means using high intensity while you're working out on the rower. With the full body workout the rowing machine provides, you can ensure a high amount of calories are going to be burned.
Not only are these calories burned while you workout, it has been discovered that calories can be burned for a period of time after you have finished working out on your rower. Called the "after-burn effect", your body has been worked to the point that it NEEDS to keep burning fat and calories, even if you've taken a seat to watch some T.V.
This scientific discovery is called "excess post-exercise oxygen consumption" or EPOC. If your workout on the rowing machine is super intense, you're sure to be benefiting from your workout even after you finished. How crazy is that? Someone who weighs 125 pounds is moving averagely on a treadmill, their average amount of calories burned will be about 250.
They will, however, not be able to feel and benefit from the "after-burn effect". Rowing enough to burn 250 calories on a rowing machine will cause less overall stress on your bones and joints AND you will have the after-burn effect. You can burn up to 800 calories per hour on average when you work harder and have more weight. That is a lot of calories burned for a low-impact workout. No wonder rowing machines are so highly regarded.
High Intensity Interval Training (HIIT) with Rowing Machines
High intensity interval training, otherwise known as HIIT, is a specific style of workout geared towards burning fat, toning muscles and improving cardiovascular health simultaneously. By doing all these things at the same, you are sure to get in the workout of a lifetime, every time. Incorporating HIIT workouts lift you into EPOC state and guarantee that after-burn effect on your body.
Because you can control the resistance on your rowing machine, it is very ideal to use it for these high intensity workouts.The rowing machine in general is one of the best pieces of equipment to use for hight intensity interval training. A very big advantage that a rowing machine offers is its ability to give you an optimal workout while taking a minimal amount of your time. Perhaps too good to be true; a huge difference to your overall health and fitness can be made with only 20-30 minutes of your time. How valuable is that?
When you workout on a rowing machine, you'll feel it through your entire body, especially when you take a high intensity interval training route. Don't over-do it though and always remember to keep water on hand whenever you do any kind of exercising. This is important so you stay hydrated. Also, a couple chugs of cold water is effective in cooling you off during a hot workout.
Try out a rowing machine with HIIT sprint intervals a try and you might just fall in love with this method of working out. Always remember, it is essential to stretch for a minimum of 5-10 minutes before starting any workout. The same goes for cooling down afterward. You don't need to dedicate too much time, just 5-10 minutes.
Try this high intensity interval training workout:
1st Interval
30 sec. Sprint
rest for 30 sec.
Do 6 reps
2nd Interval
20 sec. Sprint
rest for 10 sec.
Do 4 reps
3rd Interval
15 sec. Sprint
rest for 15 sec.
Air squats for 15 sec.
15 sec. Rest
do 6 reps
4th Interval
20 sec. sprint
10 sec. rest
do 4 reps
5th Interval
30 sec. Sprint
rests for 30 sec.
Do 6 reps
You'll definitely be feeling the burn after doing this high intensity workout on your rowing machine.
Using Your Rower Correctly
Rowing the Right Way
Rowing is really more than just a cardio workout, though that's what it primarily is. Your heart rate will soar like when you go on a jog, but you'll be sore the next day. Row Machines require you to use your leg muscles more than any other muscle groups in your body. Your quads, glutes, calves and hamstrings are the strongest, most powerful, and biggest muscles in your body. Your upper body is not ignored though. Arms, shoulders, back and abs are easily engaged by rowing on your machine.
It's not a good idea to pull as hard as you would with the typical seated cable rower at your local gym. It's important to not hurt your back; engaging it is ok and will help your overall muscle tone.
Techniques to Use with Your Rowing Machine
Make sure to use good posture. This is so key in preventing injuries to your back and to keep yourself from pulling any muscles.
Don't try to go with the highest resistance right away. Start with something comfortable for you and increase the resistance level with time. You don't want to give yourself a bigger load than you can handle.
Secure your feet on the pads when you sit down on the seat. This will keep you from moving out of place and keep you more stable as well.
Keep your back very straight and your arms stretched out holding onto the handles of your row machine.
Don't worry about pulling the cable all the way in, just focus on pulling towards your chest instead.
Allow your legs to fully extend, doing the "full" motion. Do this with shoulders high and back and the bar at the upper chest along with your wrists being firm and straight. Try to avoid curling your wrists when you do this.
Allow arms to straighten when your knees bend. This is called "recovery". This engages muscles in your abdomen and lower back. Keep your form correct and consistent for a safe and engaging workout on your rowing machine.
Other Things to Consider When Purchasing Best Rowling Machine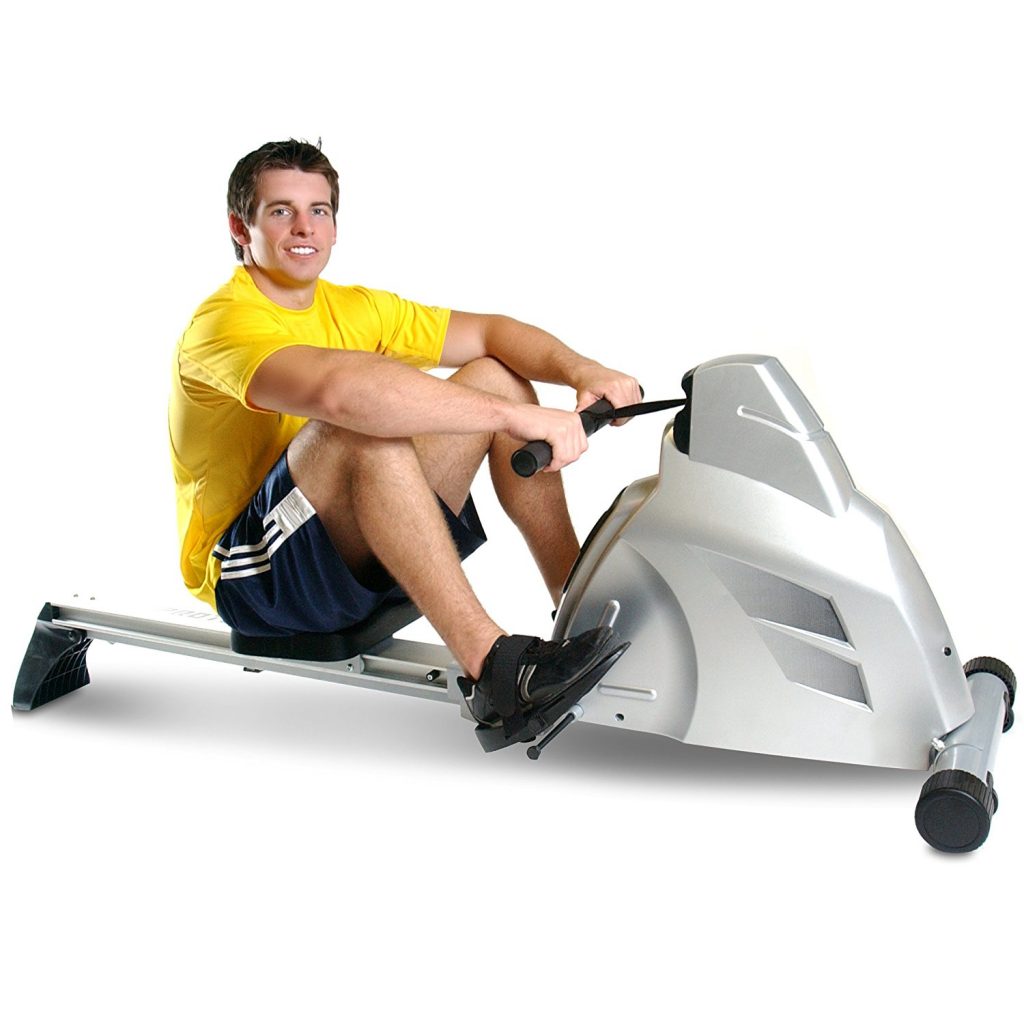 Your Workout Shoes
Rowing is no good if you don't have shoes on. It's actually a dangerous hazard to workout on your rowing machine without shoes. This applies not only to rowers, but any other workout equipment. Shoes help protect your feet so make sure you have a good pair on hand for when you decide to row.
You can wear running shoes, cross-trainers, sneakers, anything that will protect your feet comfortably. Shoes like sandals, high-heels and flip flops should be completely avoided when using your rowing machine as these do not offer any protection of your feet. Make sure to use something that will conceal your toes and that provides you with rubber bottoms.
What You're Going to Wear
When you are working out on your rowing machine, loose clothing should always be avoided. You wouldn't want your clothes to get caught between the seat and what is slides on. It's easy to get loose fabric caught on this and it will become really annoying if you have to keep stopping your workout just to let your shirt free.
It kills the mood of your workout, which is a serious task, and will overall be unproductive. Clothing that's shorter, tighter and form fitting is much better to do your workouts in, whether it be on your rower or not. The main thing is to make sure there is not any fabric material that hangs low enough to get caught in your rower.
Keeping Cleanliness in Order
The best way to maintain the cleanliness of your row-ers is to wipe off your equipment after every workout, especially if you get extra sweaty. Yes, some rowing machines may be sweat resistant and super sleek and modern, but you don't want nasty gunk and bacteria to build up through time.
Rowers take many different kinds of materials to make and believe it or not, your salty sweat can become corrosive over time. Something as simple as wiping your machine down after each workout is easy and only takes a couple minutes. It's a very easy habit to build because the only time it happens is after you do your row machine workout. This will ensure your rower is clean and that it will have an extended life. Cleaning your rower also assists in giving it a better appearance.
The Final Say on Rowing Machines
Rowing machines are regarded as one of the absolute best workout machines there are. This is said by doctors, health professionals and even fitness experts alike. Providing exercises for a great amount of your muscle groups, the rower is effective at giving your body a challenge whenever you decide to workout on it.
You have so much control on the intensity and resistance of your workout. Go super hard on some days and take it easy on others if you would like. Some rowing machines offer advanced progress tracking so you can monitor your workouts and improvements. Because a rower gives you more than just a cardio workout, you can bet that you'll get the ultimate workout every time. Build up more muscle on your body and lose any excess fat easier with a rowing machine. Feel the burn with this low-impact workout machine that will effectively engage your core, shoulders, arms, glutes, quads, hamstrings and back.
Rowers are low-impact, so your joints are going to thank you for reducing their stress. When you have bigger muscles, they require more energy which you can get by burning fat. This ends up resulting in very healthy weight loss unlike the unhealthy weight loss one would get by fasting. Choosing the perfect rowing machine for you might be intimidating and you might feel unusually confused. This is normal. There are so many types of rowers available out there. Take your time to try out a variety of rowers and don't settle on the first one you like.
You don't want to miss out on a better deal or not realize that you like water resistance more than air resistance. Consider all of the different variables mentioned before. Hopefully reading this guide and reviews helped you a decent amount in making your final decision. Rowing machines may seem like they're in a world of their own, but there's no reason you can't dominate it!
The absolute most important step of this process is to get yourself that rowing machine and to start changing your life with it. Rowers are the perfect machine to have at home because of how much of your body it utilizes. The best rowing machine is not the most expensive one, it's the machine that fits your body while at the same time doesn't break your bank account. Your body will thank you for the personal investment. We really hope this helped you understand more about rowing machines. Now get to rowing!