If you are like me and need inspiration to go to the gym to workout then this is for you. If there was something at home that I could do various workouts with, then I would be more likely to use it. Again, it should be something that is small enough to fit into my medium sized apartment, easily movable, flexible enough and yet not way too expensive.
Bowflex 5.1 Adjustable Bench 2018 Review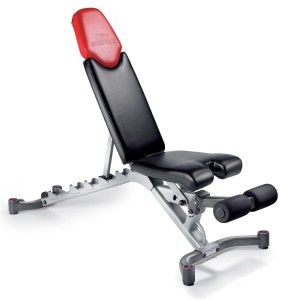 If you are wondering what I am talking about, it is the Bowflex 5.1 Adjustable Bench From the Bowflex SelectTech Products. The bench is great for its price and is very flexible, it has six different position adjustments with a flat – 90 (flat, 17, 30, 45, 60, 90) degree incline positioning.
This gives great support and helps with the correct posture for safe exercising. By using this we are reducing the risk of injury due to wrong postures. The leg is detachable and helps in crunches and sit ups. The equipment is quite high in quality and can be compared to the ones that are available in good gyms and health clubs.
By adjusting the bench to any of the positions a huge variety of exercises can be done to focus on abdomen, chest, arms or any muscle group for that matter. It is as good as one equipment gym in the small space available without having to leave the comfort of your home. It is ideal for someone who is not into professional bodybuilding, has no time or incline to go to the gym but would love to keep fit by working out at home regularly.
It is flexible with the angles and also the way the foot support is removable as some might find it uncomfortable to use.
Related: Bowflex SelectTech 3.1 Adjustable Bench
Pros of Bowflex 5.1 Adjustable Bench

It looks appealing and motivates you to use it for a fitter body.
The assembled piece is quite sturdy and does not move or wobble while exercising.
Adjusting the bench to the right incline is easy and can be done without too much of an effort.
The bench is strong with durable upholstery and heavy-duty high quality steel. It has wheels so it can be moved and stored safely.
The equipment has to be assembled but takes no more than half an hour for a novice. Quite easy to assemble without even having to look at the instructions.
The product has one year warranty on the upholstery and a 30 year warranty on the frame. The upholstery is pretty tough too and doesn't look as though it could be damaged easily.
Cons
Even though it has wheels and is easy to move, the bench has to be lifted slightly else it gets dragged on its legs. But once you get used to it, it is no big deal.
Some people might like more fine tuned angles, but the six angle positions provide a lot of adjustments for plenty of exercises that can be done on this piece of equipment and I wouldn't worry too much about it.
There is a slight problem when it is flat as there is a gap between the two cushions.
Could have been more useful if the bench was foldable completely when not in use.
Verdict
Will I recommend it? Yes, because in spite of disadvantages, the Bowflex 5.1 Adjustable Bench is rock-solid and you sure can't go wrong with this one.