Bowflex SelectTech 3.1 Adjustable Bench is a fitness equipment that provides an edge in comparison to regular benches used for exercising. The Bowflex SelectTech Bench has been designed to provide extra comfort, stability and flexibility to the fitness regime of an individual. With features like a removable brace for pinning the legs down while the bench is in a decline position, adds to its advantages.
Moreover, it can be adjusted to four different positions to enable over thirty different exercises. A proper analysis of its features, its advantages and disadvantages will help in deciding if it is worth an investment.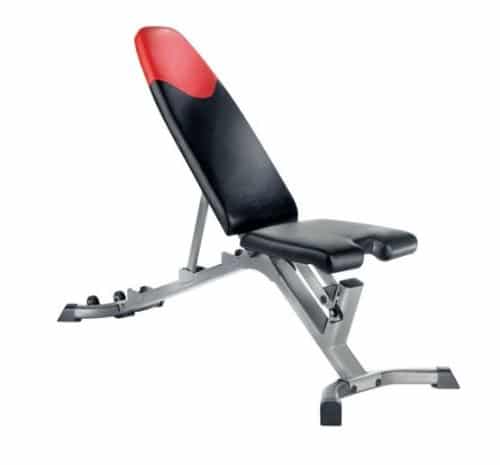 Most regular benches are flimsy and off-balance, leading people with larger frames, to feel uncomfortable while working out on them. The Bowflex SelectTech 3.1 Adjustable Bench aims to provide that sturdiness, that stability and that perfect balance to a fitness regime.
Its heavy duty support base helps in overcoming the fears of people who have always used plain benches and have suffered the consequences. The most enviable feature of this bench is its four way adjustability. It not only makes way for more flexibility but also ensures correct posture and technique.
While lifting heavy weights, correct posture is quintessential. Using this bench ensures that the exact amount of muscles are exerted for the best results. A lot of customers have come back with praises for the equipment because it leads to lesser injuries and maximum gains.
Related: Bowflex 5.1 Adjustable Bench Review
What are Bowflex 3.1 Adjustable Bench pros?
Heavy duty support base allows intense workout sessions.
Four position adjustability for a wide range of 30 workouts and more.
Flexibility leads to better postures vital for an injury-free fitness regime.
Adds extra support with its removable base for holding legs in decline position.
Steady and comfortable for larger built individuals.
Recline and decline angles are highly effective.
The wheels add up as a useful feature for better accessibility.
Full refund if client is not happy after six weeks of usage.
What are its cons?
Owing to its larger frame, it may not perfectly lean against the wall when folded up.
It is not suitable for constant and rigorous use at a gym.
Can The Cons Be Explained?

Not many products are equipped with features that are difficult to find fault with. Customers who have bought this product highly recommend it to people who look for better construction and comfort. Negative comments are very hard to find and the two rare disadvantages can also be explained in a positive light.
It does not lean against the wall perfectly when folded because it has that extra bulk, much needed for coping with heavier bodies and for lasting longer than a regular bench. It is obviously not meant for constant use in the gym because it has been exclusively designed for light to medium use at home.
The Bottom Line:
Considering all the advantages that this fitness product has to offer, it can be clearly stated that it is an investment worth making. With a 15 year warranty on the frame, one year on the upholstery and an additional guarantee provided to the buyers who purchase from the company's official website, it is a great addition to your fitness schedule. It is not for nothing that the manufacturers offer a complete refund of money after six weeks of usage. For lesser injuries, more stable workout sessions, more flexibility and fitness, this is what one truly deserves.