A Thorough Examination And XMark 12 Position AB Bench Review
There are thousands of people all around the world that are interested in enhancing their abs. A lot of men and many women dream of developing six-packs abs and flaunting their achievement in front of others. Unfortunately, achieving this goal is undoubtedly easier said than done.
The good news is that using your own body weight can help you achieve your goals a little easier and faster. In order to use your body weight and gravity for additional resistance, you'll need to invest in a worthwhile decline or incline ab bench.
XMark 12 Position Ergonomic Adjustable Decline Ab Bench XM-4416.1 Features
The XMark Fitness Adjustable Ab Bench is a wise choice. What makes this bench well worth its price? Continue reading to find out!
Sleek And Customization
There are numerous beneficial attributes associated with the XMark 12. Although appearance is definitely a minor consideration, it is still a good idea to choose a sleek bench, which will look good inside of your home. With the XMark, you won't have to worry about hiding the bench away, once the exercise has come to an end.
Not only is the XMark incredibly sleek and stylish, but it is also available in two individualistic color schemes. Consumers can choose between a black version or a white version.
And finally, the frame is protected by a powder coat finish, which is capable of resisting scratches. This ensures the sit-up bench maintains its sleek aesthetics no matter how much you use it.
Adjustability
Each exerciser is unique. Not everyone is going to be able to tolerate the same amount of intensity and resistance. If you're just starting out, you'll want to start with something easier and build your tolerance, until you're capable of increasing the difficulty of your exercise.
This is where an incline or decline bench will prove to be very advantageous. The XMark Bench is perfect for this very purpose. It is adjustable and offers a total of 12 unique height adjustments.
The decline can be adjusted to accommodate your current fitness level. Making the adjustment is incredibly easy and very quickly.
Simply pull out the red knob and slide the bench up or down, until you're satisfied with the incline. The red knob will lock into place and you'll be able to start using the bench immediately.
Plenty Of Comfort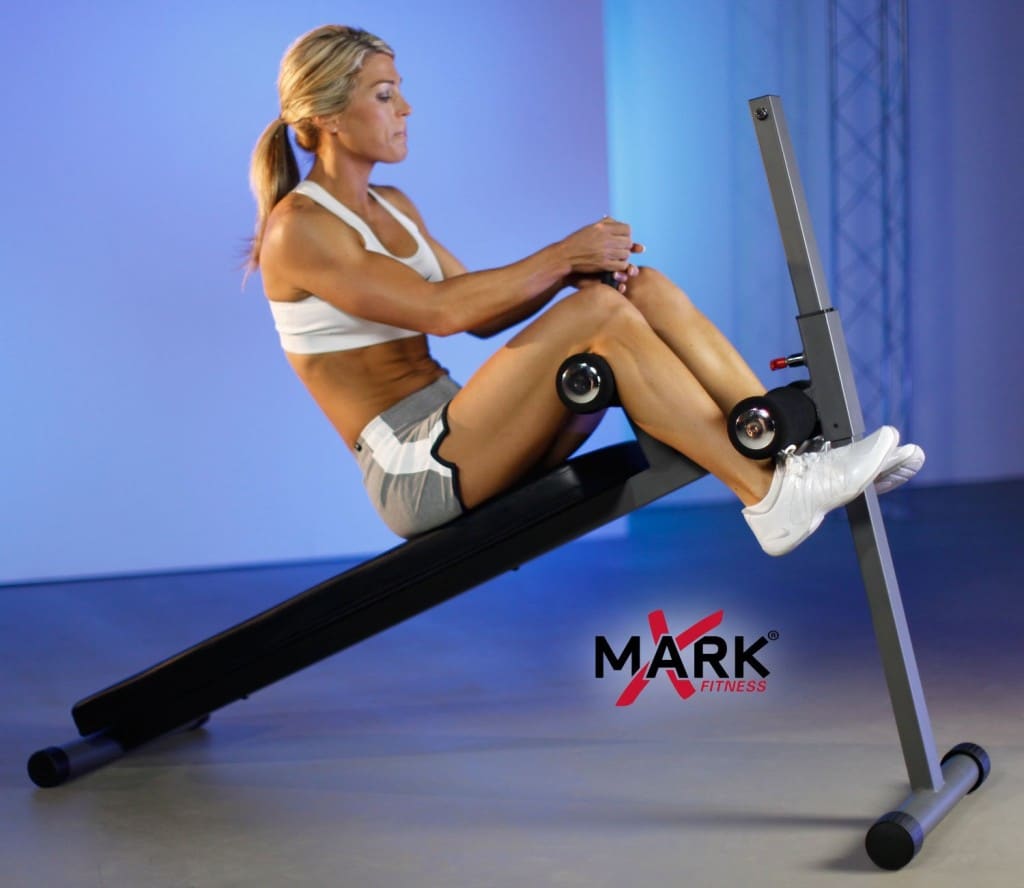 Although you'll want to push yourself and work up a sweat, you'll also want to remain comfortable throughout the duration of your workout. XMark sincerely understood this and has gone out of their way to put together the most comfortable work bench possible.
First and foremost, the bench's seating area is covered with extra thick cushioning. The cushioning is double-stitched and tear-resistant. Also, the leg rollers are perfectly spaced to provide the user with more comfort throughout their workout.
This also helps to reduce back strain. Suffice to say, you can guarantee the XMark Ab Bench will give you the ability to remain comfortable, while also providing you with everything you need to achieve your fitness goals.
Safe And Easy
Although there are always risks involved when utilizing a piece of exercise equipment, the XMark is designed to keep the user safe. The bench is equipped with an innovative support handle. This addition provides the user with a safe and easy way to mount and dismount from the seat.
After you've finished your workout, you'll definitely be winded and exhausted. If you're not careful, you may trip and find yourself face down on the floor. The support handle eliminates this problem.
Assembly Process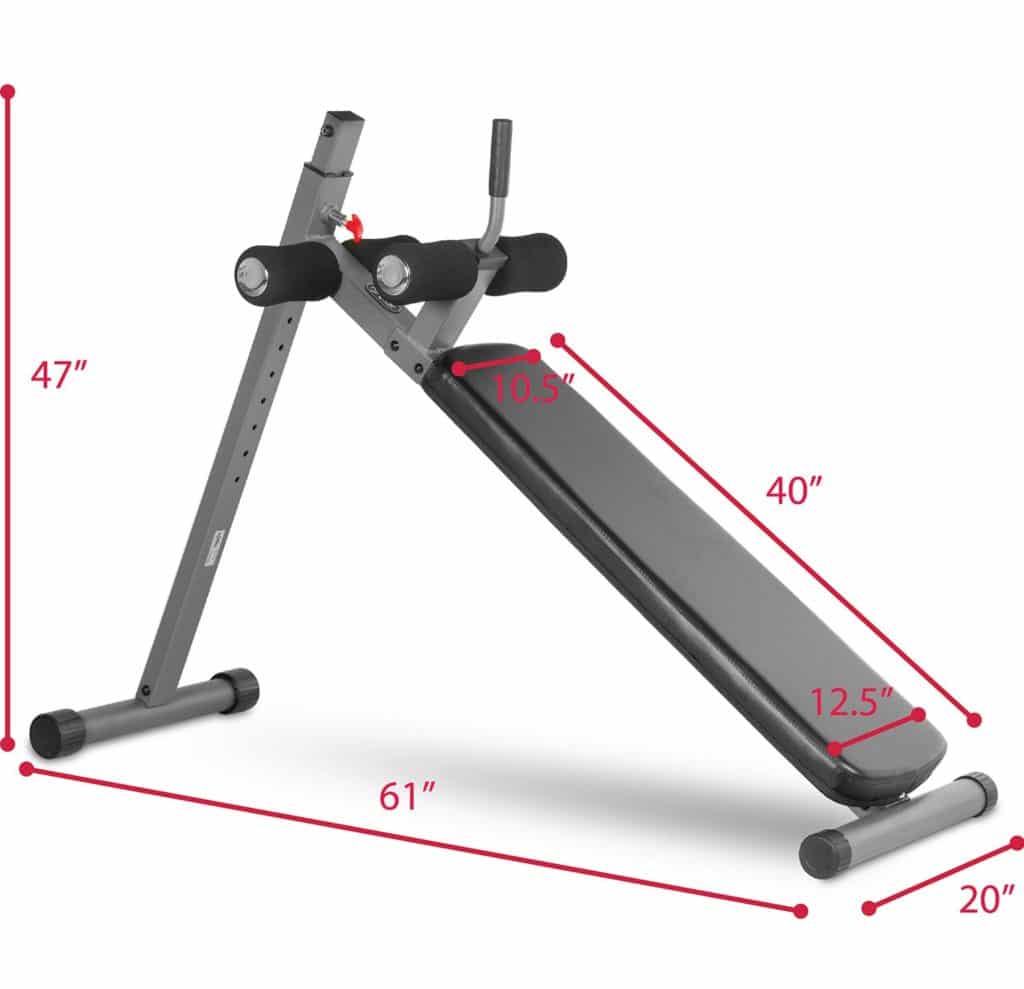 It is almost always true that the assembly process associated with exercise equipment is downright unbearable. Thankfully, there are a few pieces of equipment that can be assembled a little easier than their competitors. This is true when it comes to the XMark Bench.
The bench comes with a comprehensive instruction manual. Within the manual, you will find that each component is clearly distinguished and each step is thoroughly explained.
This makes the assembly process surprisingly easy. In total, there are four steps and most consumers will be able to breeze through each within thirty minutes to an hour.
In order to complete the assembly, you will need a rubber hammer or mallet and two adjustable wrenches. Nonetheless, the assembly process is simple, straightforward and quick.
Suitable For All
If you're worried that this bench will not be able to support your bodyweight, you should think again. Unlike many of its competitors, the XMark Ab Bench is more than capable of accommodating the mass majority of users.
Thanks to its heavy-duty construction, which utilizes 14-gauge steel, the XMark is more than capable of supporting up to 400 pounds of weight.
The 2 by 3-inch steel frame will not give way and will remain flush and stable on the ground throughout the duration of your workout.
Despite the durability and versatility of the bench, it only weighs 40 pounds when fully assembled. This guarantees you'll be able to move it from location to location, if needed.
The Leg Rollers
Although the bench doesn't feature any wheels, it is equipped with leg rollers. The leg rollers are strategically positioned at the bottom of the bench to ensure improved mobility.
The rubber feet are skid resistant, so you won't have to worry about your floor becoming scratched or damaged, during use or movement of the bench.
Pros of XMark 12 Position Ergonomic Adjustable Decline Ab Bench XM-4416.1

Convenient assembly process
Support handle makes mounting and dismounting safer
5-inch cushioning ensures a comfortable workout
Locking pin pops into place to prevent unwanted incline changes
Weighs just 40 pounds once assembled
Leg rollers enhance the product's mobility
Rubber feet are skid resistant
Powder coat finish eliminates the potential of scratches
Capable of supporting up to 400 pounds of weight
Cons
Lack of wheels
Plastic endcaps are cheap and unreliable
Overall Assessment
At the end of the day, the XMark 12 Position Decline Ab Bench isn't entirely flawless, but it is thoroughly impressive nonetheless. It is sleek, durable, versatile, and capable of providing almost everyone with a solid workout.
No matter how much you weigh or how often you work out, you can guarantee the XMark Bench will prove to be a good addition to your daily workout regimen.