Everyone desires to have six-pack abs or the perfect waistline. However, not everyone has time to visit the gym on a daily basis. Even if you do have time, it is possible that the gym you choose does not contain the equipment that you need to target specific areas. If you do not have time to for the gym, you probably result to exercising at home. Your workout probably consists of lying on the floor, doing those old back breaking sit-ups and crunches.
Well, if you want to get a more effective and comfortable abdominal workout, you need to check out the TKO Sit-Up Bench. This is truly an innovatively designed sit-up bench that will target the abdominal area.
Features of TKO Sit-Up Bench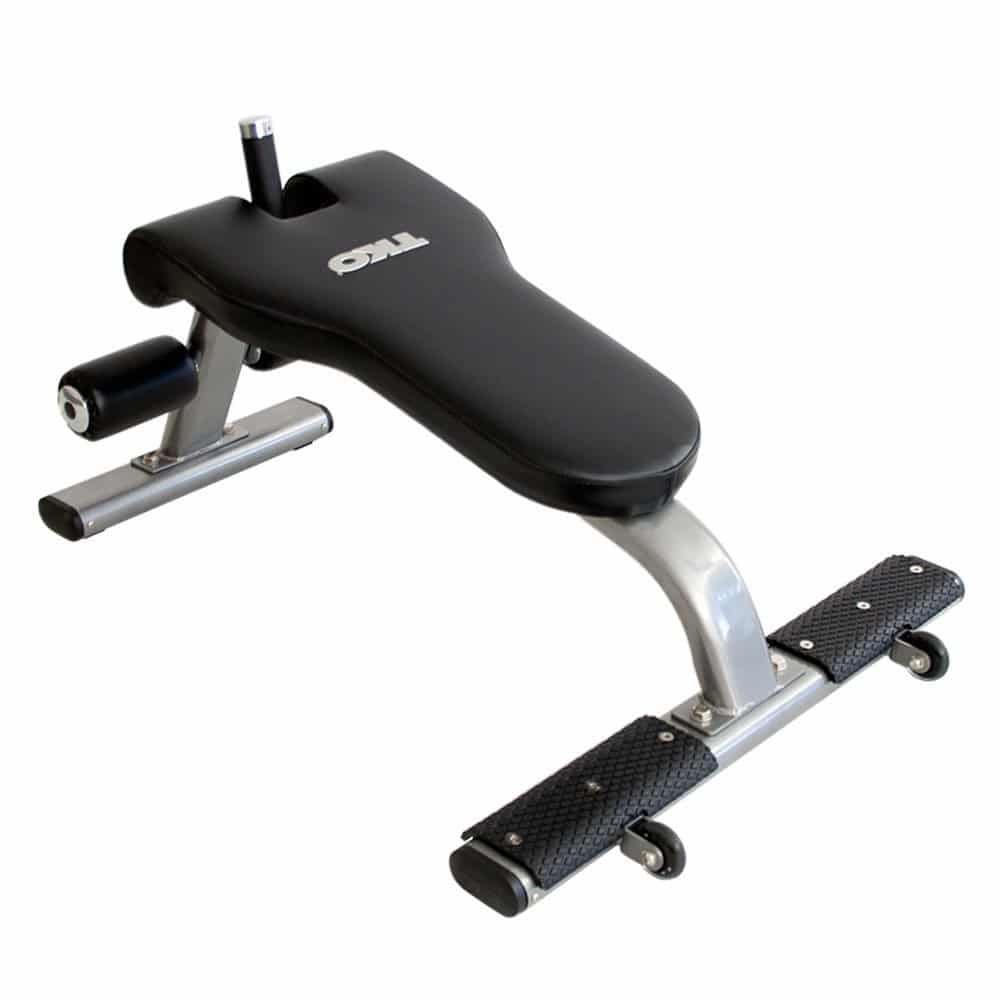 Assist Handle
Trying to do exercises on a bench with an incline can be challenging. If you are not familiar with this sort of workout, your body may become unbalanced, giving you the illusion of falling. However, with the TKO Sit-Up Bench this is something that you will not have to worry about.
The bench is equipped with a sturdy hand grip that is covered with foam grip padding. You can use the handle to provide stability, when you are getting on and getting off the bench. You can also use it to make frequent body position changes, so you do not lose your balance and fall into the floor.
Rear Transport Wheels
This bench may have a compact design, but even the most compact things can be hard to move around. This is why the TKO Sit-Up Bench is equipped with rear wheels.
These wheels make the bench very easy to transport and all you need to do is simply lift up the front of the bench and roll it to wherever you want. To make this process even easier, TKO included a hand grip, which is located on the lower, front port of the base.
Installation Process
When it comes to assembling workout equipment sometime the process can be headache. It probably seems like you spend more time looking for the right tools for the job than you do actually assembling the bench. TKO strived to simplify the entire assembly process. Getting up bench installed and ready for use will not be a problem, because they tools and hardware are included in the package. You can actually have the bench put together and ready to use in under an hour.
Compact Size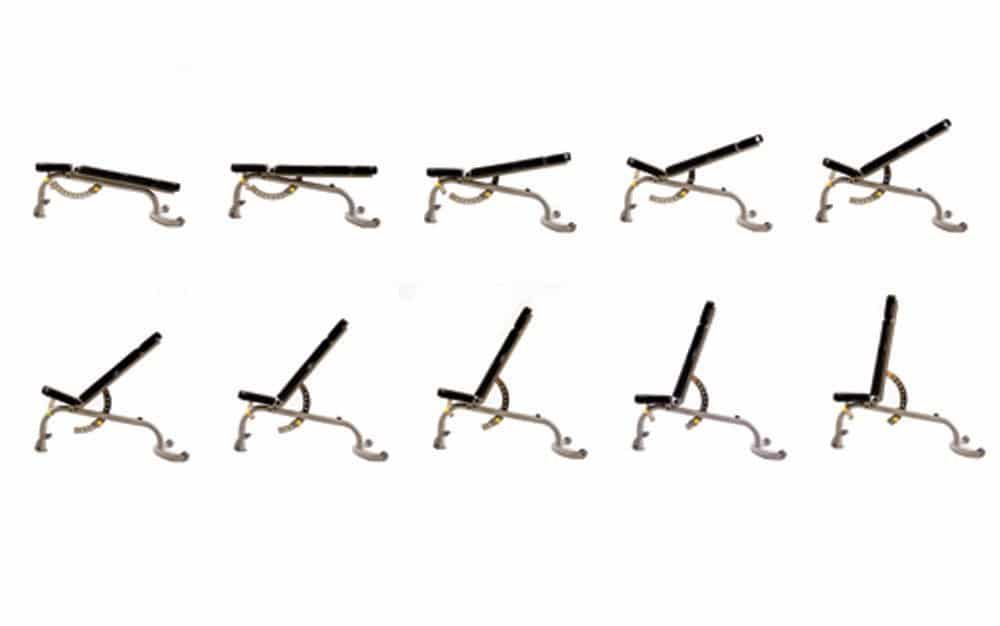 Even if you are able to find the time to workout at home, it is possible that your home is not designed for a home gym. This is especially true, if you live in an apartment, flat, or condo. You probably barely have room for a sofa and dining room table, let alone a large piece of workout equipment.
This is where the TKO Sit-Up Bench can come in handy. The bench only weighs 50 pounds and the dimensions, when fully assembled are 50" x 25" W x 24" H inches. Thanks to the compact size, you should not have a problem using or storing this bench, even in the smallest areas of your home. You can simply store the bench in a closest or in the corner of a room after you are done working out and never worry about it getting in your way.
Wider Profile
When it comes to performing strenuous abdominal exercises on a bench, it is imperative that you have the most stability possible. The manufacturers at TKO understand this and that is why they designed this bench with wider profile. The wide profile provides more stability and a solid platform that will not tilt, even when you are performing sit-up twist exercises.
Not only will this provide you with some comfort in knowing that the bench is not going to tilt over, but will improve your overall performance.
Excellent Customer Service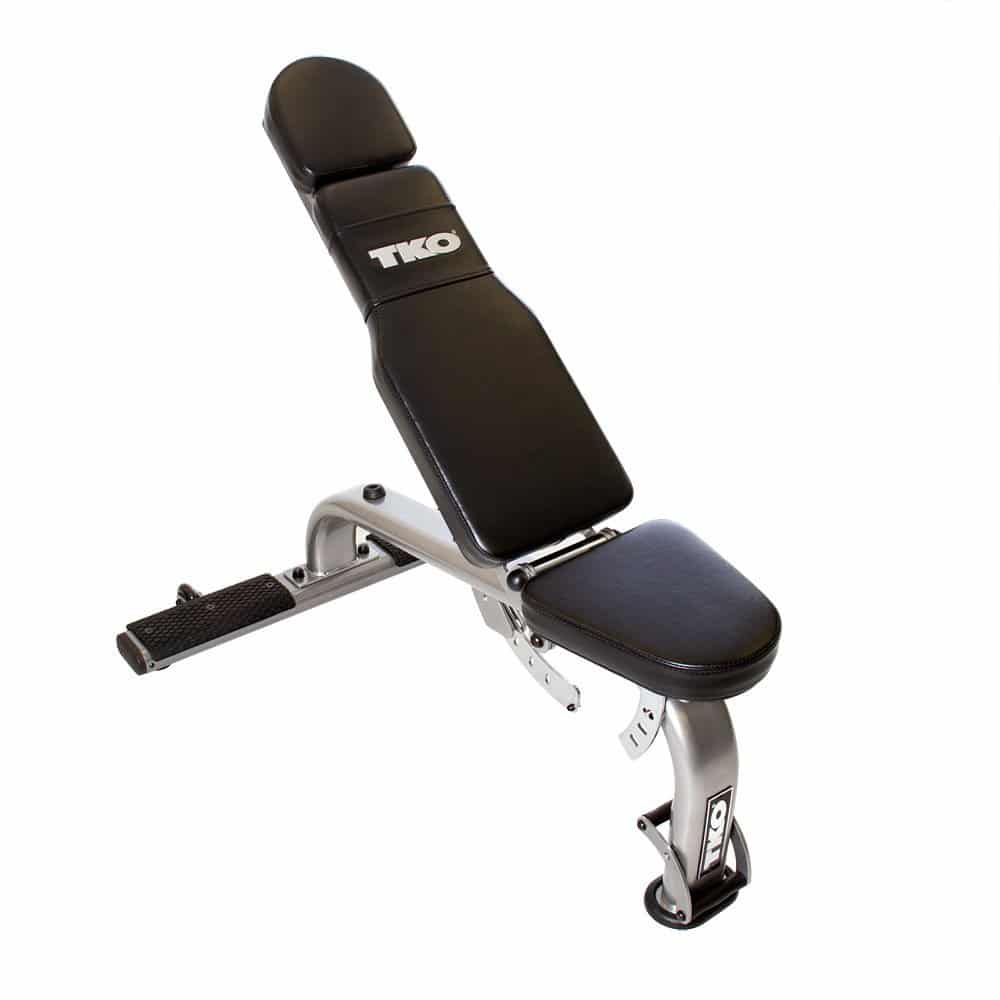 The TKO Company not only prides itself on making high-quality workout equipment, but they strive to provide superior customer service. Once you unpack the bench the bench and discover a few missing parts, you should immediately contact the customer service department. You will be able to communicate with a real customer representative. Present your problem, so it can be resolved without further delay.
Ergonomically Designed Seat
Unlike many sit-up benches, the TKO Sit-Up Bench is equipped with an ergonomically designed seat. Not only will the 23 degree angled design offer an abundance of comfort, but it will improve your performance in more ways than one. The seat design replicates the pelvis, posterior knee, thoracic vertebrae, and lumbar spine. Extra padding is placed near the front of the seat to prevent damage to the posterior knee, which is a very sensitive area that is prone to injuries.
The entire seat is constructed out of thick padding, with a durable upholstery fabric covering. This material will not absorb moisture and you can safely wipe it down with a damp cloth, without damaging the surface. The TKO logo is embedded into the seat to give the bench more appeal.
Sturdy Frame
The framework is constructed out of premium-grade steel tubing. This design will not only ensure stability, but will offer a 280 pound weight capacity. The frame is welded together, using state-of-the-art welders and welding rods. The curvature design provides the perfect angle for sit-ups and crunches. The main frame is attached to the base frame and stabilizer using stainless steel hardware that will not rust or corrode, even after years of moisture exposure.
The frame is powder coated to resist corrosion and give eye appeal. The TKO name plate located on the posterior portion of the main frame will stay intact, even in the most extreme conditions. The base frame and stabilizer are equipped with end caps to prevent floor surface damage and injuries. The caps are designed to securely snap into place and will not dislodge, when the bench is moved around. When examining the framework the meticulous craftsmanship put into its development is obvious.
Pros of TKO Sit-Up Bench

Assembled dimensions – 50" L X 25" W X 24" H
Ergonomically designed seat
Grip handle for more stability
Equipped with wheels and a grip handle for easier transport
Wider profile for added stability
Thick padding and upholstered rollers and seat
Cons
Shipping box is slightly flimsy
Height is not adjustable, making it difficult for tall-statured people to get on and off of the bench
Overall Assessment
The TKO Sit-Up Bench is crafted meticulously to ensure stability, durability, and longevity. This bench is designed to enhance your workout in every aspect. When you consider the quality of this brand, you will not question the price tag.
Click Here to Buy TKO Sit-Up Bench (Currently Not Available on Amazon)
But you can buy a similar one from the same company below;