If you're looking to create a home gym, then a primary piece of equipment to invest in is a weight bench. This is the perfect exercise equipment as it provides a range of exercise options that target every muscle in the body. For a full body workout, you can add dumbbells and other attachments to ensure a complete body workout.
Top 5 Best Adjustable Weight Bench Set For Home 2018
There are so many options in the market; you'll be spoilt for choice. It is, therefore, essential that before you head to a store or browse online, you gain clarity on your requirements and your budget. Hence we provide just the top 5 best weight bench set for home. Scroll down to read the full reviews.
Return to Dumbbellshop Homepage
---
#1 Bowflex SelectTech 3.1 Adjustable Bench Review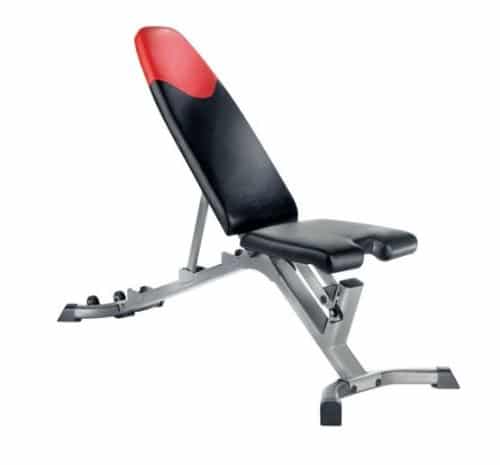 Flex Your Muscles Effortlessly On The Bowflex SelectTech 3.1 Adjustable Bench
The Bowflex 3.1 Bench is a sturdy yet compact and adjustable weight bench that's ideal for home use. The product comes with BowFlex's SpiraFlex resistance technology, which is reputed as one of the best and has even been used at the International Space Station by astronauts.
Related Post:
The bench can adjust to 4 positions that allow you to try approximately 30 different exercises that can help strengthen and tone your lower body, abdomen as well as hamstring and gluteal muscles.
Features

This bench adjusts to 4 positions (flat, 45 degrees, 90 degrees and decline), which gives you the option to try up to 30 types of exercises with or without the use of dumbbells or free weights.
There's a removable brace, which holds the bench legs down in the decline position.
The bench has vibrant red and black upholstery.
It is compact yet sturdy.
The company offers a 15 year warranty on bench frame and 1 year for the upholstery.
Pros
It is a compact bench but sturdily built, so there is ample support.
The removable brace provides extra support when exercising in decline position
The bench is wide enough to accommodate larger body frames as well.
There are wheels at the bottom, making it mobile and easy to transport. Place it wherever convenient and move it or wheel it someplace else when not needed.
If you buy this from a regular store, it's around $200 and online deals are available for around $170, which, considering its warranty definitely makes it a value for money deal.
Cons
The bench doesn't lean perfectly against a wall when it is folded up.
When assembling this, some people have found that the parts don't fit as snugly as advertised.
Some have felt that, though it is sturdy, you can use this bench as constantly as you would use Gym benches.
Conclusion
The Bowflex 3.1 Adjustable Bench is a solid and sturdy home gym equipment that provides the necessary support for a comprehensive body workout. You can check online for discounts and deals. Currently, on sites like Amazon. The Bowflex 3.1 is a popular product among body building enthusiasts and ranks number 4 in Amazon's weight bench ratings.
---
#2 CAP Barbell Deluxe Utility Bench Review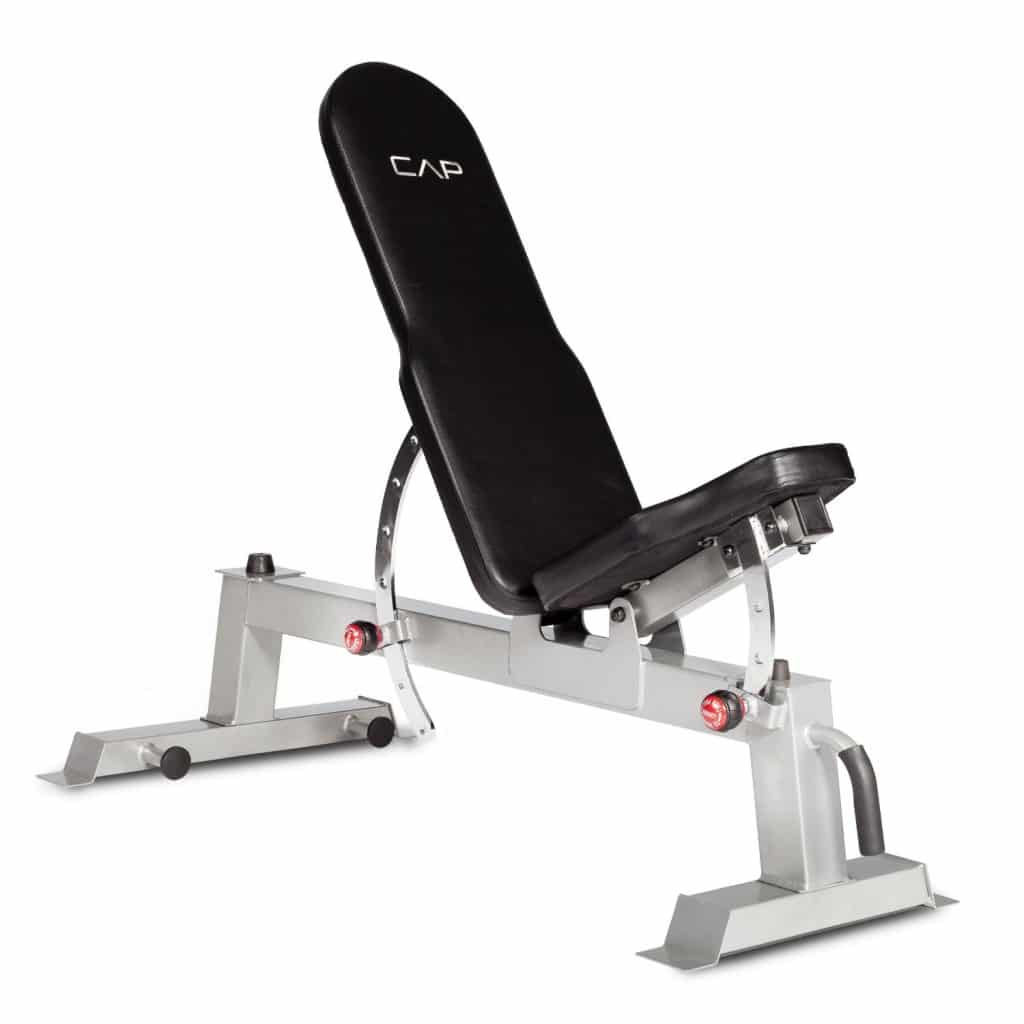 CAP Barbell Deluxe Utility Bench – Healthy Way to Lose Pounds!
If you are looking to buy a utility bench under 200-300 USD, with decent features and an attractive look then CAP Barbell Deluxe Utility bench will be the best choice for you. Working out at home is as easy as it gets instead of hitting the gym or enrolling in a fitness program. It is a great way to burn calories by using a utility bench that suits your needs.
Also, it would be a comparatively cheaper option too. Utility benches are great ways to workout with the help of using dumbbells according to the requirements of the person. The CAP FM-CB804DX is a great fusion of a traditional weightlifting utility bench and modern day features of training methods.
Features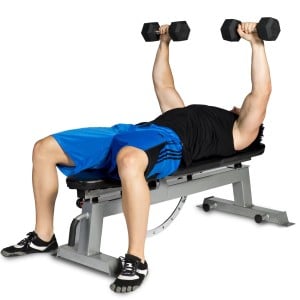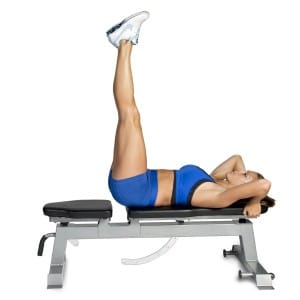 Dimensions of the bench are 53 x 27 x 45
The net weight is 42lb
10 positions incline – 7 back and 3 front
Maximum capacity – 500 lb in flat position and 400 lb in inclined position
It is suitable only for indoor use
It has band/tube anchor posts that have safety covers
Grip pop pins are there for secure adjustments
Transport handle with wheels is present
Logo is embroidered
Pros
The positive features of the utility bench are:
Value for money
Ease of transportation because of the transport wheels and handle.
Can be adapted for using with dumbbells or as a traditional utility bench
All steel construction
Great option for leg lifts, twists or crunches
Does not cover up space
Apt for everyday use
It has 2 power band posts
Cons

Some of the reviews show a few negative features of the bench. They include:
No memory foam pad
It cannot be used in the decline It can be used in upright or inclined position only
Not a great upholstery according to a few users
Bottom Line:
CAP Barbell deluxe bench is a good investment of money for people who are looking at losing their weight in a healthy manner. It is an affordable buy with a lot of flexible options. Its ease of transportation makes it even more beneficial. All in all, it is a good buy that lives up to its name.
---
#3 Marcy Diamond Mid-Width Bench and 100-Pound Weight Set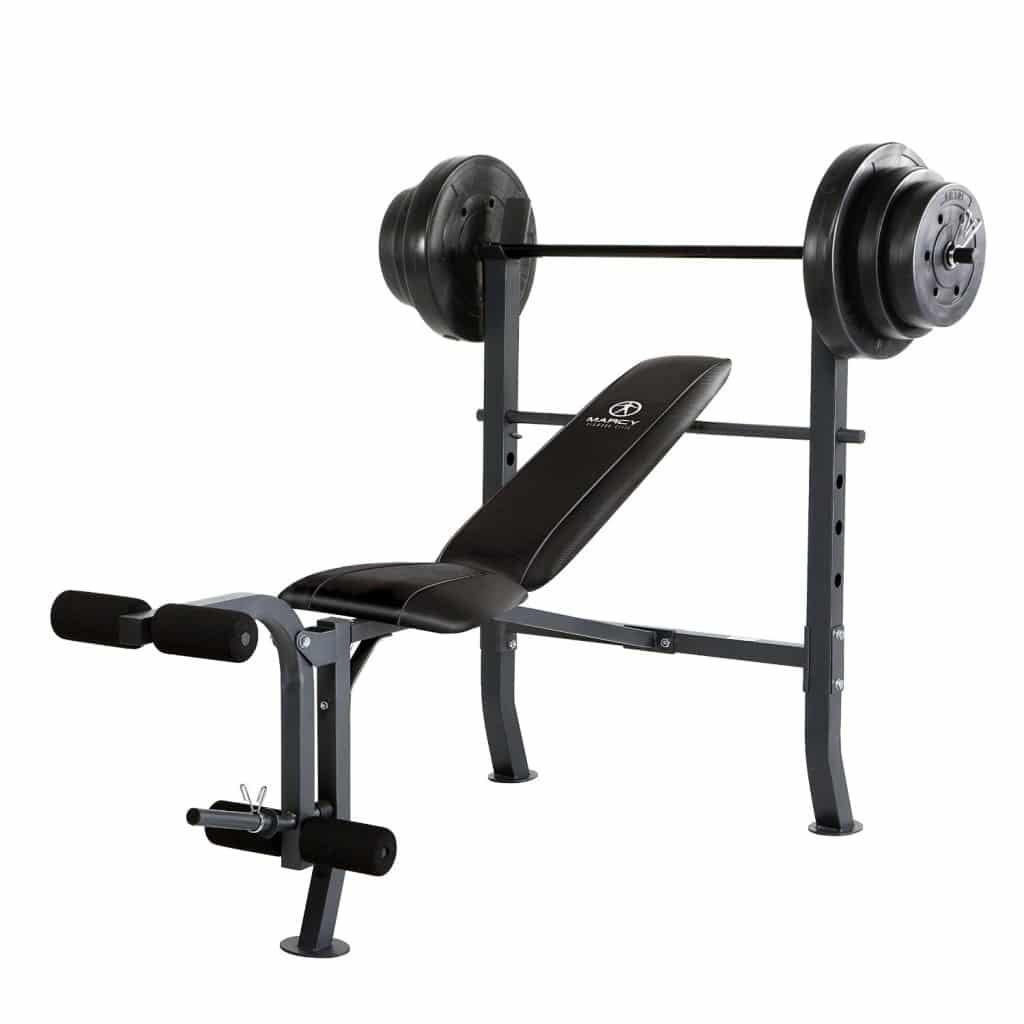 Marcy Diamond Mid-Width Bench and 100-Pound Weight Set – Affordable Bench Press To Lose Pounds                    
If you are on a tight budget and would want a affordable bench press to workout, Marcy Diamond Mid-Width Bench and 100-Pound Weight Set could be the best choice for you. In this fast paced world, losing weight is of utmost concern to most people. Having a bench press at home is one easy way to work out without bothering to hit the gym.
MD-2082W Marcy Standard Bench is a good choice that would help you to define and tone your muscles by strengthening them. The bench is acquainted with a multi-position back pad that would enable you to work out in eight positions that include five flat chest presses and 3 incline exercises.
Features
Dimensions of the bench are 15.5 x 47.8 x 9 inches
Weight is 146.1 pounds
Clamps – Yes 3 clamps
Back pad – multi-position; Supports 5 Flat chest press exercise; 3 Incline exercise
Includes 100lbs weights
It has 2 sets of 25lbs, 15lbs and 10lbs
Pros:
The following are the positive features of the MD 2082W Marcy Standard Bench
Affordable price – suits any budget
Easy assembly – Instructions are very easy to follow
Looks very decent for the pricing
It can be a very good starter bench workout
Does not take up much space
Apt for daily use
Cons:
There are a few major drawbacks of the bench. It is best to look out for these pointers before you buy
Suitable only for people who are shorter. It is difficult for anyone tall to use the bench press.
The handle bar is not too sturdy. Most people end up buying an additional support to use the bench press
The bench press is not suitable for decline bench press. It only goes down to a flat surface
Bottom line:
If you are planning to buy a bench press to burn your calories and if you are of a petite structure then this could be a blessing to you. If you are a taller person you might find it a little difficult to use. If budget is a concern, this could be your best buy, considering the range of features available at an affordable price.
---
#4 Marcy Roman Chair Review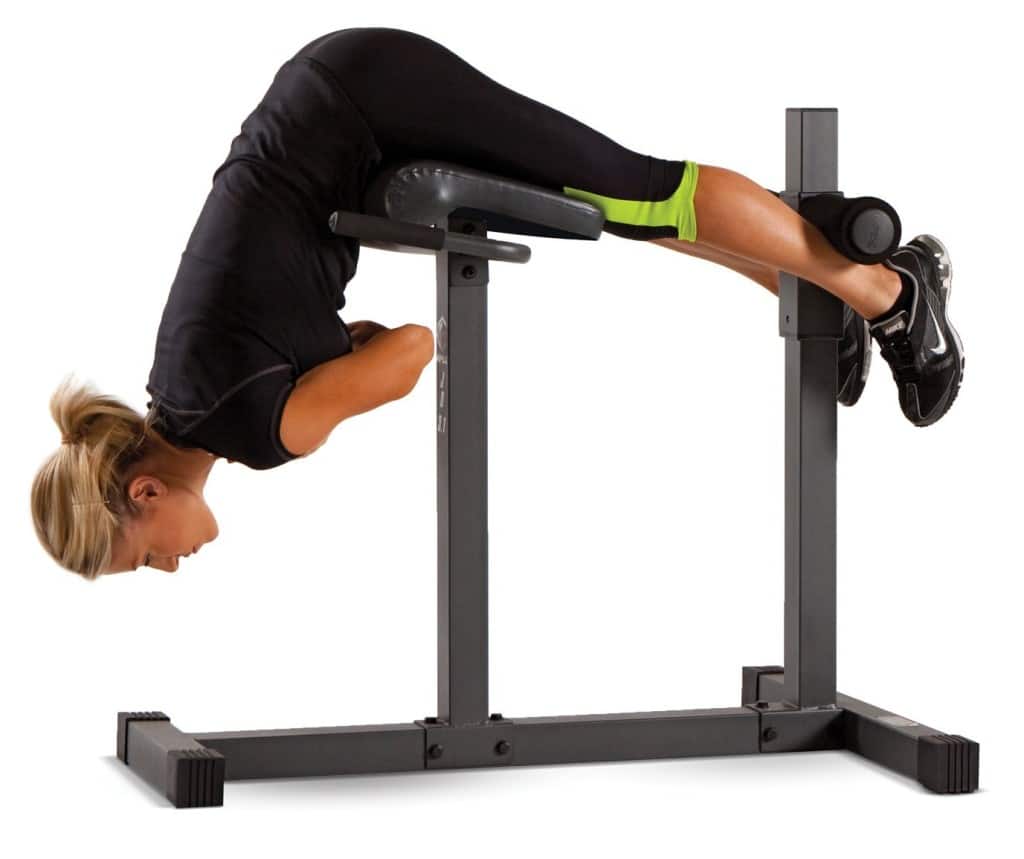 Bend And Stretch With Ease On The Marcy Roman Chair
Introduction of Marcy Roman Chair

The Marcy Roman Chair or Hyperextension machine, as they are sometimes called, is a super compact, yet sturdy piece of exercise equipment for home use. The bench is wide enough to accommodate almost all frames and the leg holder is adjustable. The equipment frame is 14-guage steel tubing and it has a smooth powder coated finish.
The chair is approximately 43.5 inches in length, 38-inches in height and 28-inches in width. The primary target area is the lower back, although this chair can also be used effectively to tone abdomen and gluteal muscles.
Features

The Marcy Roman Chair has a 2 x 2-inch sturdy frame.The upholstery is leather and the seat is wide and comfortable.
It has adjustable foam leg holders.
This chair is perfect for strengthening lower back, hamstring, abdomen and gluteal muscles.
It can handle up to a maximum of 300 lbs.
It comes with a 2-year limited warranty on the product.
Pros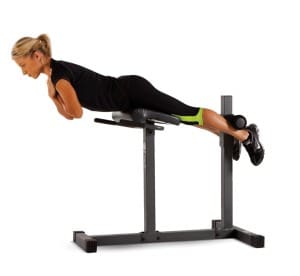 It's sufficiently padded and the adjustable foam leg holders make for comfortable exercising.
The all steel tubing frame makes it a durable piece of equipment.
The bench is sleek and the whole equipment is so compact, it can easily be tucked into the corner of any room when not in use.
This chair is long and wide enough to suit most body types.
It is very easy to assemble.
It's available online for less than $70, making it the most affordable piece of home exercise equipment.
Cons
Though the length and height is adjustable, some people have found it difficult to adjust to the height of this equipment, claiming it is still too high to comfortably exercise.
The seat is leather and ankle pads are foam, yet a few users have not found it soft enough, especially for prolonged use.
Conclusion
Firstly, the biggest reason to buy the Marcy Roman Chair is its price. At less than $70 on sites like Amazon, this equipment is a complete steal. Moreover, it has an overall user rating of 4.2 out of 5 and ranks number 3 in Amazon's ratings of weight benches. From a usability perspective, it gets a big thumbs-up for ease of assembly. Beginners might feel like it's difficult to find the right position to exercise, but those used to exercising on roman chairs will find this equipment, easy and comfortable to use.
---
#5 Pure Fitness Multi-Purpose Mid-Width Weight Bench Review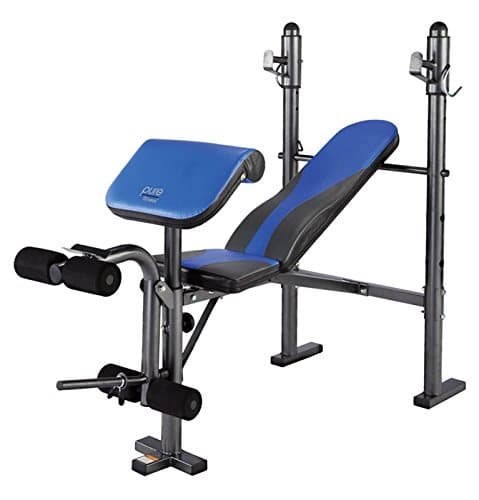 Pure Fitness Multi-Purpose Mid-Width Weight Bench – Work-Out Your Way to Better Health
Staying in shape is an easy option with Pure Fitness Multi-Purpose workout bench. It is a compact unit that can easily fit into either one's workplace or home. The unit is sturdy and can easily accommodate up to 400lbs with a strong steel frame. It is a three-way seat back that supports all positions including – Straight, decline and incline.
It also has a preacher pad and a leg developer that helps you maintain a full body fitness regime. One can use this bench for bench presses, leg lifts, leg curls, extensions and more.
Features
The bench is a good product that goes by the motto of the manufacturer that says, "Simply good products for real life". The product measures 57 x 19 x 9 inches and weighs 60 lbs. It is made of sturdy steel material and has a powder coated finish. It features a 2-inch high-density seat made of foam. The maximum weight capacity that is allowed is 400 lbs.
Pros
The weight bench has a lot of positive features to take note of while you are planning to buy. They include:
Straight-forward and simple design
Affordable price
Simplicity of assembly
A number of workouts can be done with this single equipment
Does not occupy a lot of space; it is compact
It can be worked in all possible positions including upright, decline and incline
Cons
A few users have reported the following issues with the bench:
It might not suit taller people. It will be perfect for kids or teens or even people with a petite structure.
The overall design of the workout bench is not as much as depicted in the pictures of the bench. This confuses people regarding the features of the product.
Bottom Line:
If you want an all-rounder work out bench, the Pure Fitness Mid Width bench is a great option for the price. It is a very affordable and flexible equipment that would help you in your daily workout routine without burning a hole in your pocket. However, we would recommend matching it with your structure before buying the workout bench to make sure it works for you!
---
How To Choose The Best Weight Bench For Home Gym?
What to look for when choosing the best weight bench for your home gym?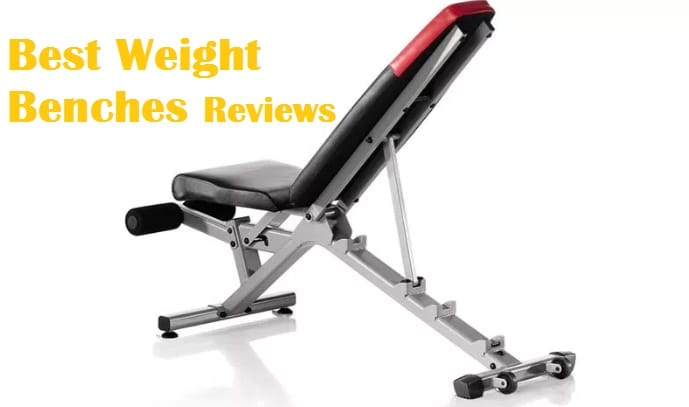 Number of positions
Adjustable weight benches usually offer 4 or 5 positions. On an average, 4 or 5 positions will give you around 30 different exercise options. So figure out how much position flexibility you will be satisfied with for your home gym.
Weight lifting
On a weight bench along with the stretching exercises, you'll also be lifting weights. So, have clarity on how much weight you want to lift. Every bench has a specific weight capacity and if you intend to lift heavy weights, then that automatically eliminates low capacity compact benches.
Mobility
Do you want a compact bench or a heavy bench? Do you want it easy to move and stow or would you prefer a stationery bench? If you have shortage of space in your home then a compact bench is the right choice. There are also some models that come with wheels, making it convenient to move the bench around.
Budget
Last but definitely not the least – your choice of bench will also be influenced by how much you can spend on it. On an average, compact benches come for around $200 or less. The heavier, high capacity benches can cost up to $600.
Conclusion
It's important to know your buying criterion, so you can make an informed choice. One of the best weight benches for home gym is the CAP Barbell Utility Deluxe Bench. It offers all the exercising options of a traditional heavy weight lifting bench with the added bonus of using resistance tubes/bands for low impact exercising. It scores a brownie point on the price front too.
---